1947 Tech 🇮🇳: 101
Once a week newsletter: Insights on Tech, markets, startups, venture capital, and foreign investments in India
1. Facebook will invest in more Indian startups, deals likely soon: India MD
There are about 4.5 billion internet users worldwide. Out of the remaining 3 billion internet users, a third would come from India. 
India will define the future of the internet.
Facebook would do anything possible to capture this market.
Social media giant Facebook is making exceptions in a market like India by making 'minority investments' in the startup ecosystem here and over the next few weeks and months will have more announcements to make about investments in the space.
After investing in social commerce platform Meesho last year, Facebook announced its second investment in learning platform Unacademy last week
Facebook will invest in more Indian startups, deals likely soon: India MD
2. BharatPe raises $75M to help Indian merchants accept digital payments and secure working capital
Welcome to India, Amplo!
Every other week we are seeing a new global fund investing in an Indian startup. 
In the next 5 years, India will be the most competitive startup ecosystem in the world, give the pace we are going at.
To give you an idea, India has seen an impressive 25x growth from a tiny $550M in 2010 to $14.5B in 2019 in terms of the total funding raised by the start-ups.
GGV capital just announced two investments in two weeks: Vedantu & Rupeek!
BharatPe, a New Delhi-based startup that is enabling hundreds of thousands of merchants to accept digital payments for the first time and also providing them with access to working capital, has raised $75 million in a new financing round as it looks to scale its business in the nation.
The Series C round for the one-and-a-half-year-old startup was led by New York-headquartered hedge fund Coatue Management and existing Palo Alto-based fintech investor Ribbit Capital.
BharatPe raises $75M to help Indian merchants accept digital payments and secure working capital
3. Looking for success in 15 seconds on TikTok street
WhatsApp found its place in the Indian culture.
We are seeing the same with TikTok!
A bus conductor who lives near Rohini. "I told my family, 'Weekdays I work to earn money, and weekends I work to become famous'," says Thakur.
Fascinating read!
Worth Reading:
A week in review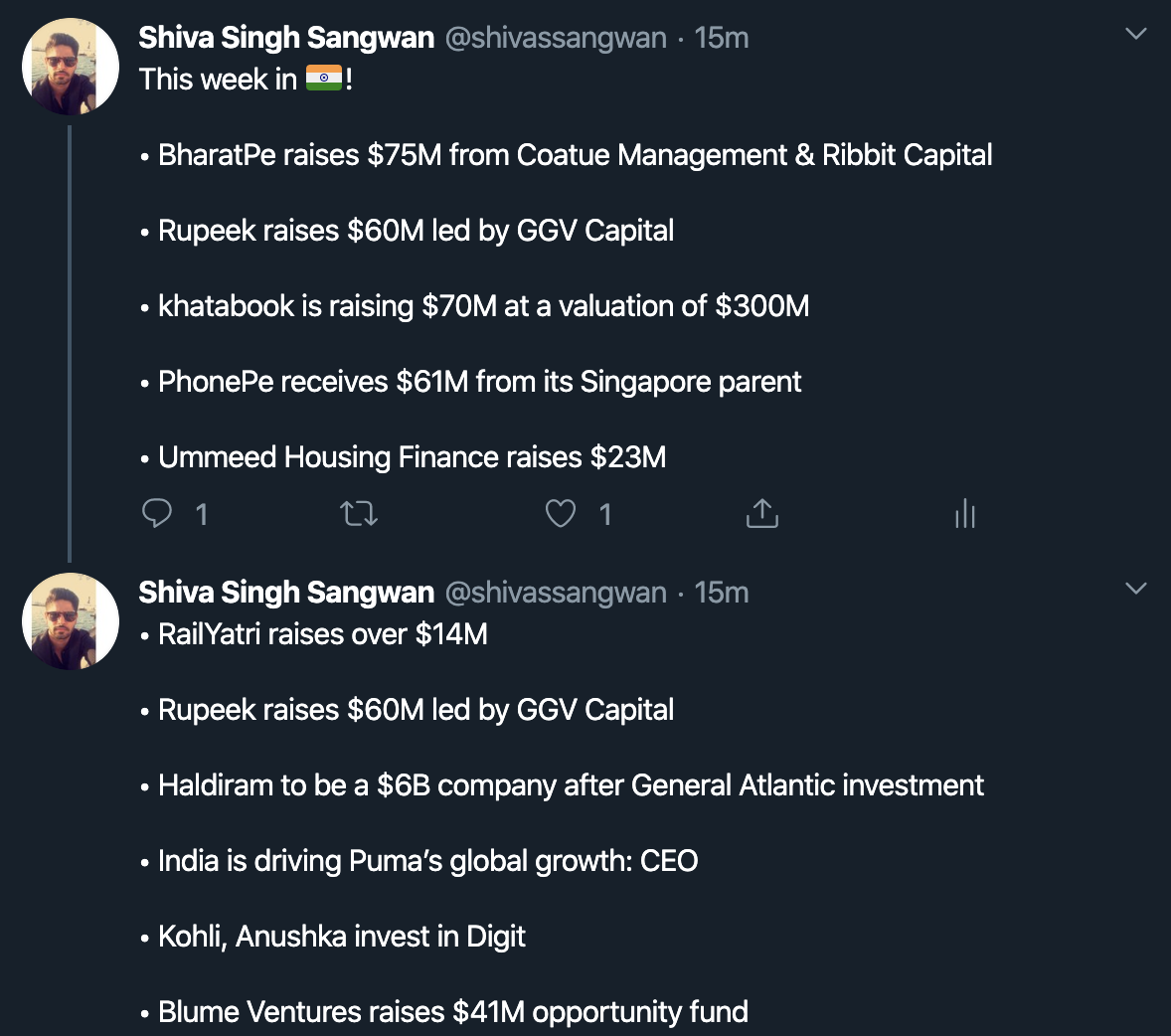 Thank you for reading. Please share any feedback, questions or comments
with me on Twitter
 :)