Discover more from 1947 Tech Newsletter 🇮🇳
All you need to know about the Indian technology ecosystem in 5 minutes. Subscribed by over 80% of unicorn founders in India and the world's best VCs A fresh new issue every week!
Over 1,000 subscribers
1947 Tech 🇮🇳: 102
Once a week newsletter: Insights on Tech, markets, startups, venture capital, and foreign investments in India
1. VCs to founders: Another dozen join the exodus
In addition to repeat founders going at it again, early employees at unicorns leaving and starting up. We have another testimonial.
A testimonial for why it is probably the best time to start a startup in India and invest in startups in India.
A fresh set of about a dozen venture capitalists in the junior to mid levels has left prominent funds including SAIF Partners, Accel, Lightspeed Venture Partners and Sequoia Capital over the last 18 months to establish their own businesses, a continuation of a trend last witnessed in the funding boom of 2015.
There are many more who have left VC gigs to start startups but are not mentioned in the list. 
In fact, met one this morning.
The future is bright.
2. VCs start the new year with $7 billion dry powder
The following sums it up:
Despite the global economic climate, India's startup and VC ecosystems continue to thrive as investors take a long-term view based on the country's growth potential. They see the current slowdown as more cyclical than structural
An excellent report on Venture capital in India 2020 put together by Bain & Company and IVCA.
3. India's Spinny raises $43.7M to expand its online platform for selling used cars
This time it is General Catalyst. Welcome to India.
This is General Catalyst's first deal this year in India and second overall. Last year they had invested in Cred.
Spinny, an online platform for selling used cars, has secured $43.7 million from a cohort of influential investors in a new financing round as it looks to expand to more Indian cities.
The four-year-old startup has raised about $57 million to date, and according to a person familiar with the matter, the new round gave it a post-money valuation of about $150 million.
India's Spinny raises $43.7M to expand its online platform for selling used cars
4. Oyo-backer Lightspeed eyes 3rd $300 million India fund
Great news for the startup ecosystem, great news for India. One of the best funds 
Lightspeed is raising $300M for fund 3! 
One of the best in the game.
The new fund comes soon after the firm has been able to complete record exits from unicorns like Oyo and Byju's in the previous year, delivering cash return of over $900 million between the two deals.
Worth reading:
A week in review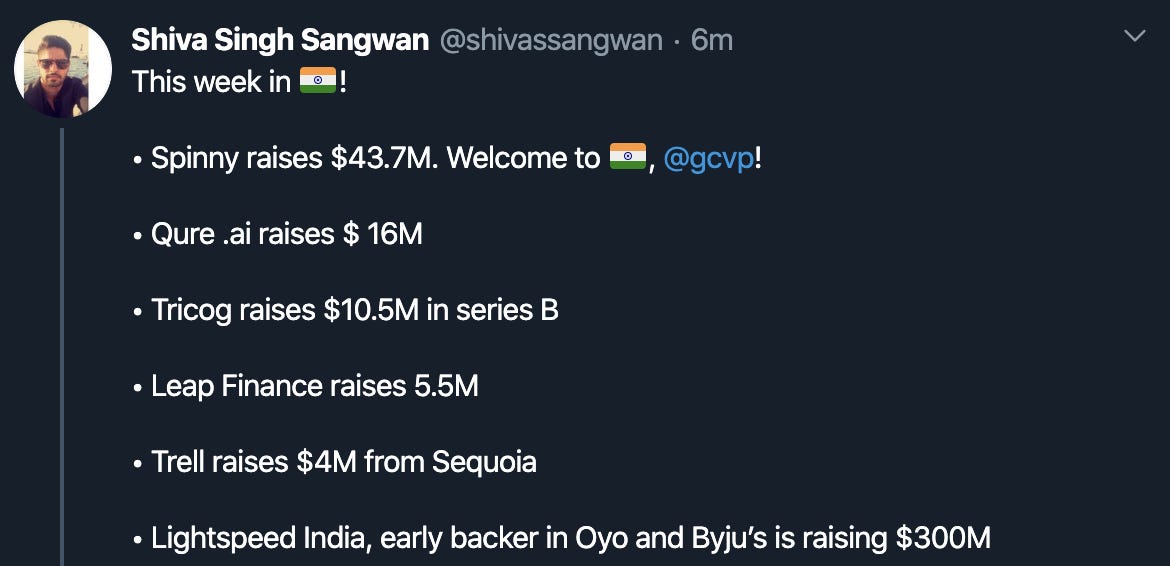 Thank you for reading. Please share any feedback, questions or comments
with me on Twitter
 :)