Discover more from 1947 Tech Newsletter 🇮🇳
All you need to know about the Indian technology ecosystem in 5 minutes. Subscribed by over 80% of unicorn founders in India and the world's best VCs A fresh new issue every week!
Over 1,000 subscribers
1947 Tech 🇮🇳: 105
Once a week newsletter: Insights on Tech, markets, startups, venture capital, and foreign investments in India
1. Facebook in talks to acquire 10% stake in Jio: Report
After Meesho and Unacademy, Facebook is eying its third deal.
Well, why not?
India is the biggest market for Facebook with 328 million monthly users and the company's WhatsApp messaging app has 400 million users in the country, also the most in the world.
Facebook is said to be in negotiations to acquire a stake in Mukesh Ambani's Reliance Jio Infocomm, the Financial Times reported, citing two people with knowledge of the matter.
It said the social media giant was close to an initial agreement to pick up a 10% stake but discussions hadn't moved forward on account of the global disruption following the coronavirus outbreak. A deal was to have been announced by March end.
2 How Indian startups are helping fight COVID 19 in India
Tech startups often get criticized. But hey I hope we have realized by now, not only startups move the world forward, but it also saves the world.
There are three basic necessities of humans: Food, health, and shelter.
Indian startups are providing all three:
Worth reading:
A week in review: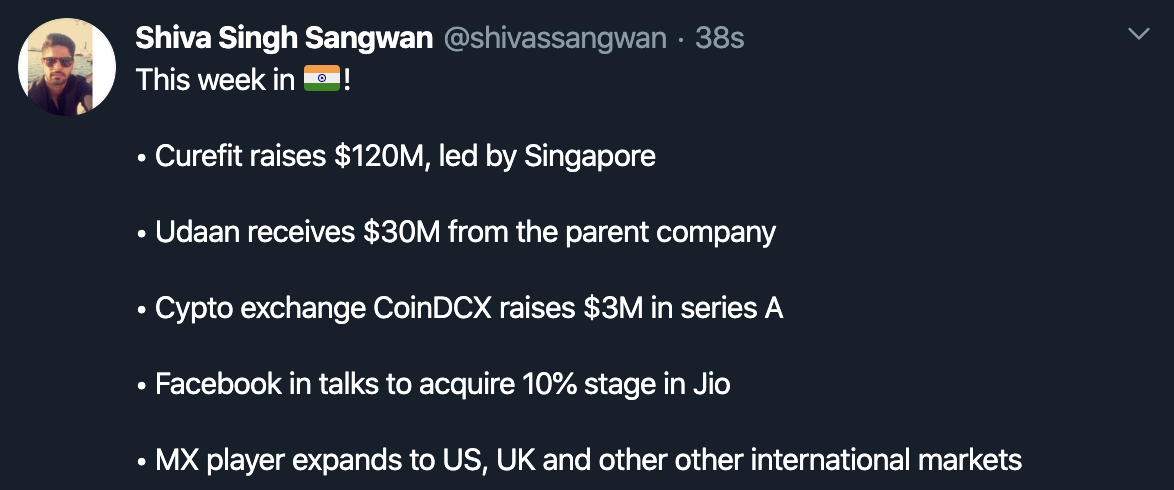 Thank you for reading. Please share any feedback, questions or comments
with me on Twitter
 :)