1947 Tech 🇮🇳: 106
Once a week newsletter: Insights on Tech, markets, startups, venture capital, and foreign investments in India
1. Investors tell Indian startups to 'prepare for the worst' as COVID-19 uncertainty continues
The change in the mindset going forward:
From 'growth at all costs' to 'reasonable growth with a path to profitability.'
Just three months after capping what was the best year for Indian startups, having raised a record $14.5 billion in 2019, they are beginning to struggle to raise new capital as prominent investors urge them to "prepare for the worst" and cut spending.
Indian startups participated in 79 deals to raise $496 million in March, down from $2.86 billion that they raised across 104 deals in February and $1.24 billion they raised from 93 deals in January this year, research firm Tracxn told TechCrunch. In March last year, Indian startups had raised $2.1 billion across 153 deals
Investors tell Indian startups to 'prepare for the worst' as COVID-19 uncertainty continues
2. Swiggy and Zomato settle for smaller cheques
Food delivery apps Swiggy and Zomato have accepted smaller cheques of $5-$10 million from a pool of investors to beef up cash reserves, as they continue to fight a bruising battle for market share in the online food delivery business amid a lockdown induced by the Covid-19 pandemic.
Swiggy said it had raised an additional $43 million from Ark Impact, Korea Investment Partners, Samsung Ventures and Mirae Asset Capital Markets, thereby closing its latest $156 million funding round led by existing investor South African internet giant Naspers
Zomato said in regulatory filings last Friday that it had raised $5 million from Pacific Horizon Investment Trust, a fund managed by British investment manager Baillie Gifford.
Valuations, too, have only inched up marginally. While Swiggy is valued at about $3.6 billion, Zomato's is close to $3.2 billion.
3. In a first, VCs and startup entrepreneurs join hands to launch Covid-19- focussed Grant
This is so good to see — VCs and startup entrepreneurs join hands to launch Covid-19- focussed Grant.
Probably first of its kind initiative globally.
A number of top fund managers from blue-chip venture capital firms — including Sequoia Capital, Accel and Lightspeed Venture Partners — and prominent startup CEOs have joined hands to set up a Rs 100 crore grant that will back fledgling firms working on products and services to combat the Covid-19 pandemic.
The entrepreneurs include Mukesh Bansal, founder of Curefit and Myntra; Abhiraj Bhal, cofounder of UrbanClap; Kunal Shah, founder of Cred and earlier FreeCharge; Freshworks' Girish Mathrubootham, Moglix CEO Rahul Garg and Jaydeep Barman, co-founder of Rebel Foods, besides others, according to multiple sources with knowledge of the developments.
In a first, VCs and startup entrepreneurs join hands to launch Covid-19- focussed Grant - ETtech
Worth reading:
A week in review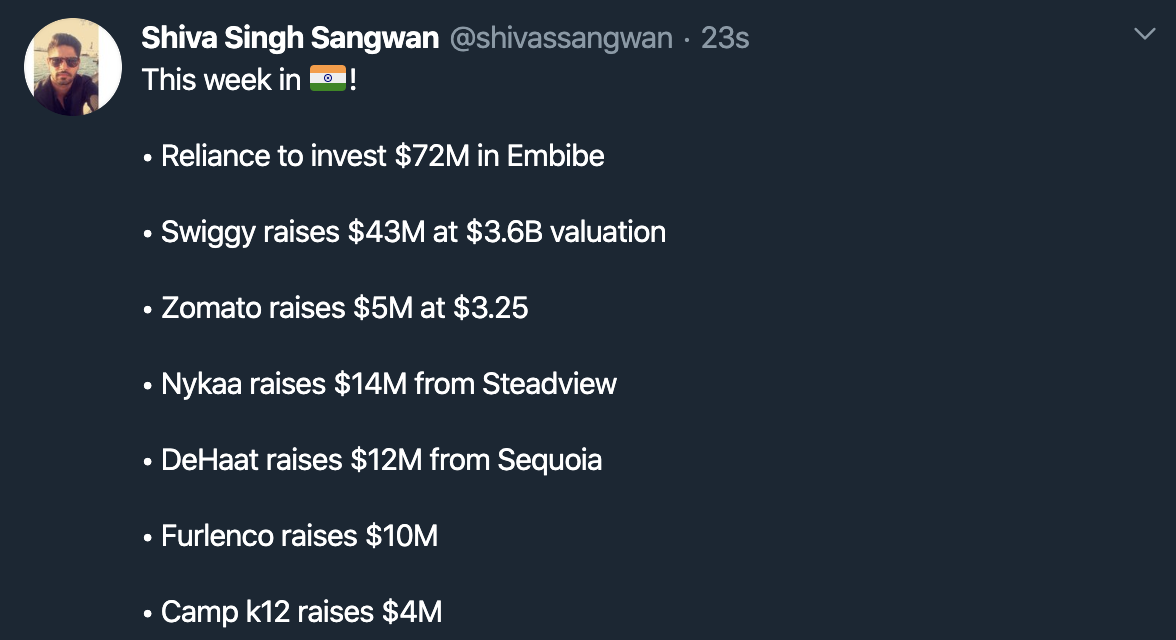 Thank you for reading. Please share any feedback, questions or comments
with me on Twitter
 :)