Discover more from 1947 Tech Newsletter 🇮🇳
All you need to know about the Indian technology ecosystem in 5 minutes. Subscribed by over 80% of unicorn founders in India and the world's best VCs A fresh new issue every week!
Over 1,000 subscribers
1947 Tech 🇮🇳: 107
Once a week newsletter: Insights on Tech, markets, startups, venture capital, and foreign investments in India
1. Zomato may buy Grofers in an all-stock deal valuing e-grocer at $750M
One thing that we have seen that has happened in India during COVID-19, startups partnering up with startups and startups partnering with the government. Whether Uber teaming up with Flipkart or Oyo and Bounce teaming up with the government.
It's great. We all are in it together!
But Zomato and Grofers are going one step further.
Zomato is learnt to be in talks to acquire online grocery retailing startup Grofers in an all-stock deal
Btw Albinder Dhindsa, founder of Grofers led international expansion for Zomato before parting to start Grofers.
Zomato may buy Grofers in an all-stock deal valuing e-grocer at $750M
2. RIL, Facebook weigh creating a super app
Facebook is in talks to buy a 10% stake in Jio.
Looks like they have a bigger plan together.
SuperApp has paid massive dividends in China and SEA. Wechat in China, Go-jek and Grab in Indonesia and Malaysia respectively.
India is still wide open.
No one in India has been able to build a dominant SuperApp. Many have tried.
Let's see how this one goes.
The idea is to create an app that is not just a communication platform but one where users would also be able to buy groceries through Reliance Retail stores, or make payments using JioMoney.
3. Zomato, Meesho, Snapdeal, Perpule and NoBroker expand to launch groceries
Sometimes you gotta do whatever it takes to stay in the game! At the end of the day, it is about who can adapt to the change and stay there the longest.
Post COVID-19, one thing is certain — the real businesses will stay and thrive, tourists will evaporate.
A slew of internet businesses have diversified into the groceries space, a category deemed tough to crack for e-commerce players, in the wake of the Covid-19 pandemic.
Social commerce startup Meesho, etailers like Snapdeal, Paytm Mall, Perpule and Shopclues as well as food delivery app Zomato, and real estate platform NoBroker have all launched delivery of essential grocery products on their platforms, in a bid to keep operations running and tap into rising consumer demand.
Zomato, Meesho, Snapdeal, Perpule and NoBroker expand to launch groceries
Worth reading:
A week in Review: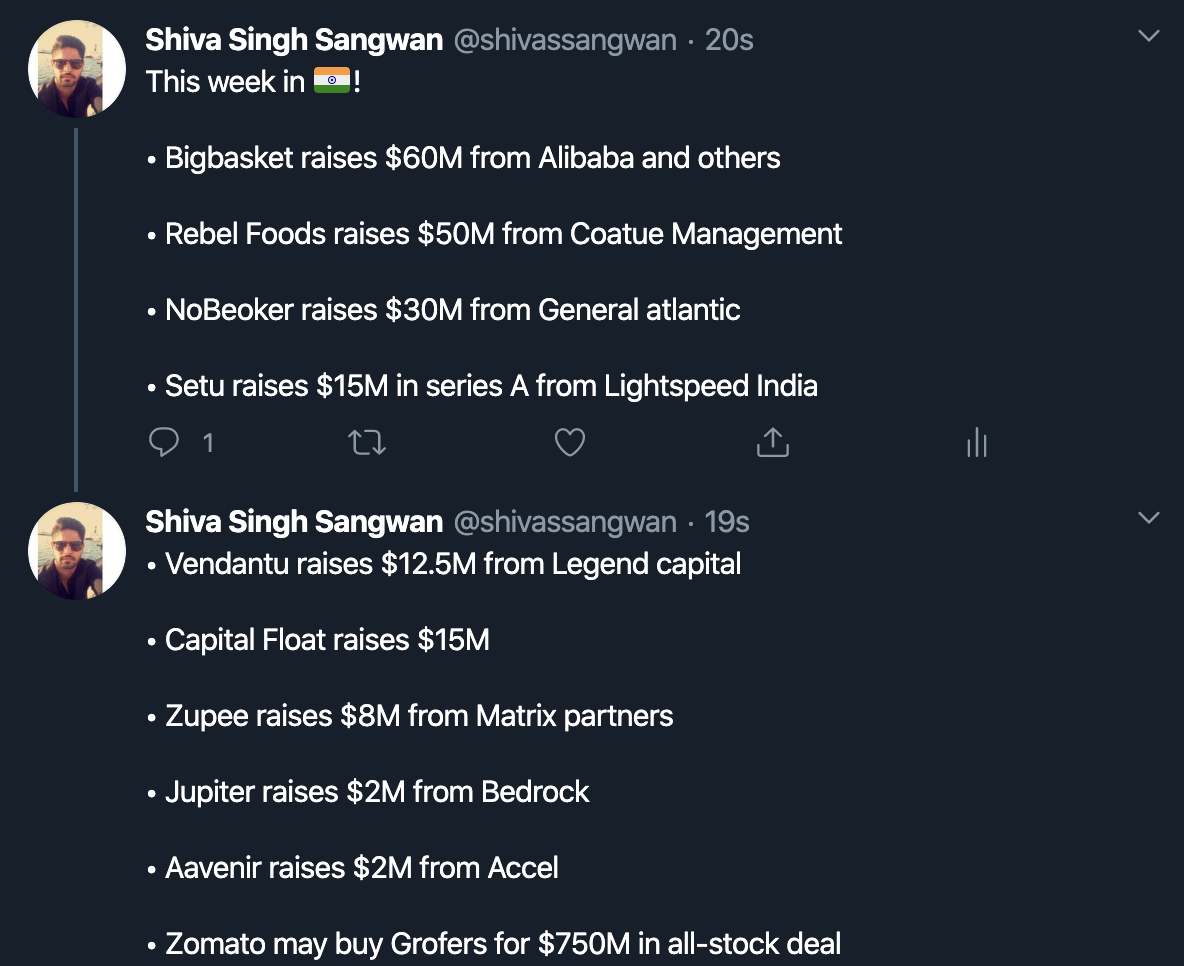 Thank you for reading. Please share any feedback, questions or comments 

with me on Twitter

 :)