Discover more from 1947 Tech Newsletter 🇮🇳
All you need to know about the Indian technology ecosystem in 5 minutes. Subscribed by over 80% of unicorn founders in India and the world's best VCs A fresh new issue every week!
Over 1,000 subscribers
1947 Tech 🇮🇳: 119
Once a week newsletter: Insights on Tech, markets, startups, venture capital, and foreign investments in India
1.
Google to invest $10 billion in India
One thing is apparent — The future of the internet would be defined by India. 
What a time to be in India to build, to enable the tech ecosystem.
The following tweet pretty much sums it all:
Google said on Monday that it plans to invest $10 billion in India over next five to seven years as the search giant looks to help accelerate adoption of digital services in the key overseas market.
Sundar Pichai, chief executive of Google, unveiled Google for India Digitization Fund through which the company will be making investments in the country.
"We'll do this through a mix of equity investments, partnerships, and operational, infrastructure and ecosystem investments. This is a reflection of our confidence in the future of India and its digital economy," he said via video conference at the company's annual event focused on India.
2. Google invests $4.5 billion in India's Reliance Jio Platforms
Google has become the latest high-profile firm to back India's Reliance Jio Platforms. The search giant is investing $4.5 billion for a 7.73% stake in the top Indian telecom network, Reliance Industries chairman Mukesh Ambani said on Wednesday.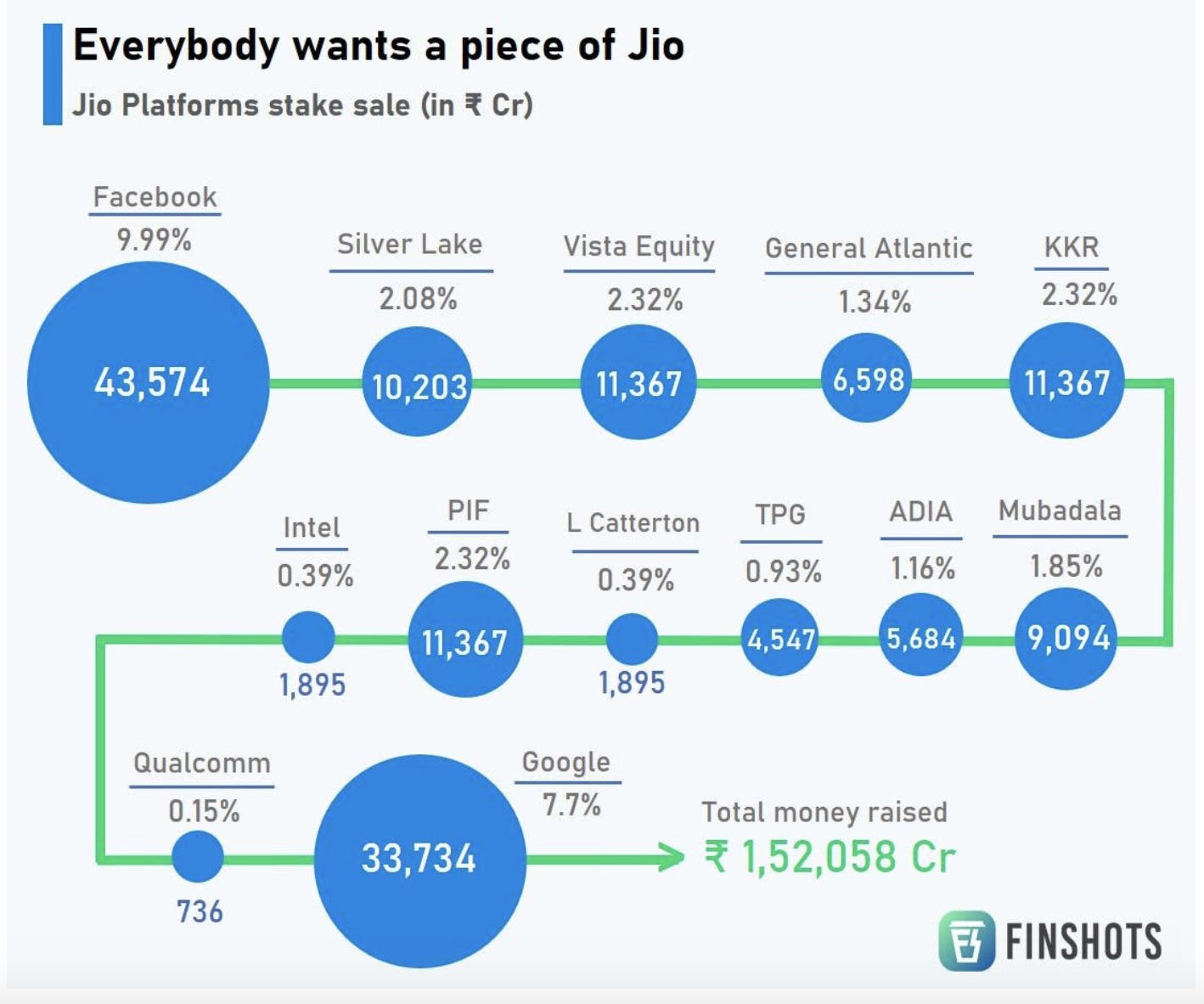 Key announcements from Reliance Industries AGM 2020 Link
Google invests $4.5 billion in India's Reliance Jio Platforms
3. Sector-specific funds
The Indian tech ecosystem has come a long way. 
VC was an unheard term in India, just a few years back.
Today we are seeing sector-specific funds cropping up.
That's a massive change in such a short period of time
Freecharge founder Sandeep Tandon sets aside Rs 100 crore for early-stage hardware bets link
VC firm HealthQuad raises Rs 514 Cr for its second fund link
Worth your attention
A week in review:
Thank you for reading. Please share any feedback, questions or comments
with me on Twitter
 :)