Discover more from 1947 Tech Newsletter 🇮🇳
All you need to know about the Indian technology ecosystem in 5 minutes. Subscribed by over 80% of unicorn founders in India and the world's best VCs A fresh new issue every week!
Over 1,000 subscribers
1947 Tech 🇮🇳 : #51
Once a week newsletter: Insights on Tech, markets, startups, venture capital, and foreign investments in India
1. It's clean sweep: All of the top 10 fastest growing cities in the world are in India
When it comes to the top 10 cities for economic growth, India is set to dominate over the next two decades, according to Oxford Economics.
Surat, a diamond processing and trading center in the western state of Gujarat, will see the fastest expansion through 2035, averaging more than 9 percent, Richard Holt, Oxford's head of global cities research, wrote in a report. All of the 10 fastest over that period will be in India.
While economic output in many of those Indian cities will remain rather small in comparison to the world's biggest metropolises, aggregated gross domestic product of all Asian cities will exceed that of all North American and European urban centers combined in 2027. By 2035, it will be 17 percent higher, with the largest contribution coming from Chinese cities.
All of the top 10 fastest growing cities in the world are in India
2. India continues to grow massive: India to overtake UK in IMF global economic rankings
India is set to overtake the UK in 2019 in the rankings of the world's largest economies, with Britain's economic weight set to decline as emerging markets grow to command an increasing share of global output.
The UK was the fifth-largest economy in the world in 2018, according to the IMF's estimates of gross domestic product, measured in dollar terms at market exchange rates. Next year, the IMF's projections show it slipping to seventh place in the global rankings, outstripped by India and also France.
Mike Jakeman, an economist at PwC, whose forecasts for 2019 match the IMF's projections, noted that India, the fastest-growing large economy in the world, is "all but certain to continue to rise in the global GDP league table", given its rapid growth rate, enormous population, favourable demographics and high catch-up potential.
3. Big Funding Round: Swiggy raises mega $1B round, valuation swells to $3.3B
India's largest food delivery platform Swiggy said it has mopped up $1 billion in funding led by existing backer, South African media giant Naspers, besides entry of new investors like China's Tencent and hedge funds Hillhouse Capital and Wellington Management.
The new round will see the valuation of the five-year-old Bengaluru-based startup swell to $3.3 billion
"Swiggy has 10x the number of orders per month since our first investment, has expanded throughout India to tier 1, 2 and 3 cities, and most importantly, is the most loved food delivery brand in India, providing the best service to consumers nationwide," said Larry Illg, CEO, Food and Ventures, Naspers
Swiggy raises mega $1B round, valuation swells to $3.3B — ETtech
4. Big Funding Round:
Ola, Uber's India rival, invests $100M in scooter rental startup Vogo
Indian ride-hailing firm Ola will invest $100 million in Vogo, a domestic scooter sharing start-up, and add the company's fleet of two-wheelers to the Ola app to broaden the range of vehicles it offers, the companies said in a joint statement on Tuesday.
Vogo, which provides services in the southern Indian cities of Bengaluru and Hyderabad, will use the money to expand its fleet by 100,000 scooters. It did not disclose how many scooters it currently has but said that more than 100,000 users have commuted for over 20 million kilometres using its two-wheelers.
Ola, Uber's India rival, invests $100M in scooter rental startup Vogo
A week in review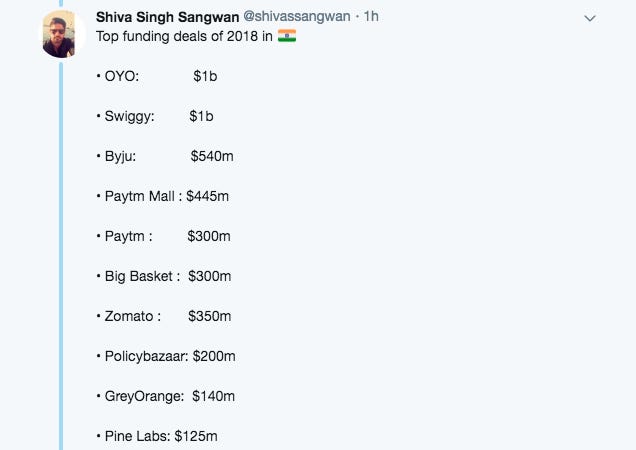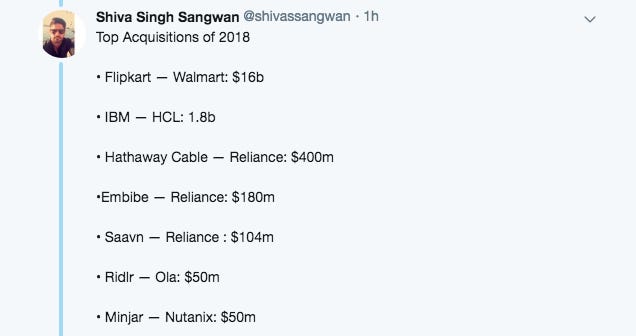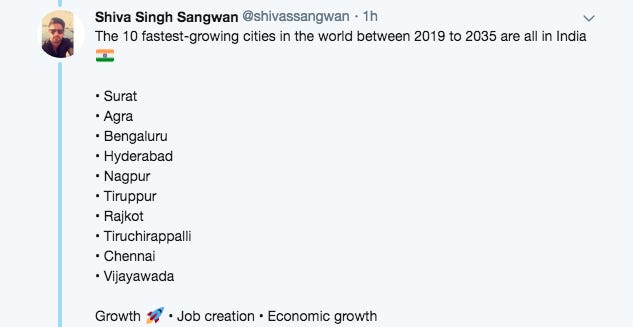 Thank you for reading. Please share any feedback, questions or comments
with me on Twitter
 :)