1947 Tech 🇮🇳 : 52
Once a week newsletter: Insights on Tech, markets, startups, venture capital, and foreign investments in India
1. 'Make in India' has to be more than a slogan
Despite improvements in India's ranking in ease of doing business. India still has a long way to go if it were to reach its highest potential.
Dinesh Paliwal, the India-born CEO of $8-billion US-headquartered connected vehicle systems and audio giant Harman, has said that India has a high potential for investments, but global CEOs shy away from committing money as they are "afraid of India's bureaucracy, corruption and lack of transparency."
While lauding the improvement in ease of doing business rankings, Paliwal says India needs to do much more than merely talk about boosting manufacturing. "The 'Make in India' campaign has to be more than a slogan, it needs to have legs,"
'Make in India' has to be more than a slogan' — ET BrandEquity
2. VC funding beats IPOs: Indian startups raised more money than IPOs in 2018
India, which is home to third-highest number of startups in the world after the US and Israel, saw a total of $6.55 billion (around Rs 44,940 crores) venture capital (VC) funding coming in during the year through 697 deals, almost doubled from $3.77 billion (around Rs 24,347) in the previous year.
The VC funding during the year also surpassed the amount raised by the listed Indian companies through the primary capital market through Initial public offers (IPOs). During the year 2018, around 25 companies floated IPOs raising around Rs 34,117 crores (around $5 billion) from the investors, less than half of Rs 77,228 crores (around $ 11.88 billion) raised in the previous year.
Business News Live | Share Market News | Finance New — Live TV CNBCTV18
3. Bureaucracy continues to stymie India's entrepreneurs by setting up a veritable licence raj
Modi government has done a great job of inspiring the youth of India by giving India slogans like "Startup India" and "Make in India."
However, in reality, they are only slogans. They lack the substance.
Bureaucracy is blocking Indian startups by setting up license raj. Bureaucracy has never created a single job and they don't face any consequences for bad decisions. Bureaucrats have no skin in the game. They have a secure income, benefits, and promotion.
They are clueless and thus forming clueless policies.
The government should invite successful entrepreneurs, entrepreneurs who have created billions in value and lakhs of jobs; for instance founders of homegrown tech giants like Flipkart, Paytm and so on, to help form the right policies. They understand what is needed to empower entrepreneurship so the entrepreneurs can get to work and go on to create jobs and economy of the country.
View: Bureaucracy continues to stymie India's entrepreneurs by setting up a veritable licence raj
4. Connected India: Internet access in India has crossed a 50-crore milestone
Internet access in India has crossed 560 million mark. The Internet connection has grown by 65% from March 2016 to reach 560 million mark in 2018.
As per the latest information from the Telecom Regulatory Authority of India (Trai), by the end of September 2018, there were 560 million narrowband and broadband connections in India.
The huge increase is largely because of Jio. While BharatNet has created the infrastructure, the actual number of people using it is not much given that most subscribers have wireless connections
Another 740 million to go! So much room for opportunity.
Internet access in India has crossed 50-crore milestone — ETtech
5. Big year: Deals cross $100 billion mark in record-breaking 2018
Private Equity (PE) and (M&A) transactions in India crossed the $100-billion mark in 2018, breaking all previous records.
The country attracted nearly $35 billion during the year by way of private equity.
High activity in sectors like infrastructure, real estate, distress, among others.
6. New Unicorns in India: A look at India's newly minted unicorns
India's startup ecosystem has seen eight startups joining the unicorn club in the past year.
Here they are:
PolicyBazaar — Insurance aggregator

Byju — An online education platform 

Swiggy — Food delivery startup 

OYO — Budget hotel chain 

Billdesk — Online payment processor 

Udaan — Business-to-business online marketplace 

Freshworks — Customer engagement software 

Paytm Mall — The online marketplace 
A week in review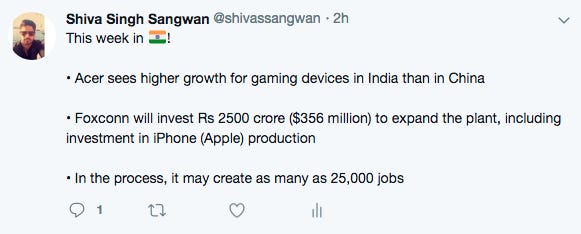 Thank you for reading. Please share any feedback, questions or comments
with me on Twitter
 :)