1947 Tech 🇮🇳 : 57
Once a week newsletter: Insights on Tech, markets, startups, venture capital, and foreign investments in India
1. Amazon Users in India Will Get Less Choice and Pay More Under New Selling Rules
On February 1st, Indian consumers woke up to an emptier, more expensive version of Amazon's shopping service.
In all, more than 400,000 items that account for nearly a third of Amazon's estimated $6 billion in annual sales in India will probably disappear at least temporarily from the local version of the company's service, as Amazon tries to comply with new e-commerce rules imposed by the Indian government.
Amazon Users in India Will Get Less Choice and Pay More Under New Selling Rules
2. SoftBank's India kitty set to cross $10bn
Japanese telecom and internet major SoftBank is set to cross the $10-billion milestone in the country as it closes investments in two e-commerce ventures — baby care retailer Firstcry and sector-focused logistics company Delhivery. 
Both of these are expected to be in the $400–450 million range, helping the Japanese billionaire Masayoshi Son-led firm cross the promised number in less than five years after he announced in October 2014 that he will invest $10 billion over a decade.
3. Budget 2019: Middle-class tax bonanza will spur demand for consumer Internet companies
The Indian middle class which is expected to gain on the back of the tax relief bonanza announced in the Budget will help generate demand among consumers, internet entrepreneurs.
Finance Minister Piyush Goyal said in his Budget speech that full tax rebate will be offered to individual taxpayers earning up to Rs 5 lakh or $700 annually
Budget 2019: Middle-class tax bonanza will spur demand for consumer Internet companies - ETtech
4. Budget for Leisure: How a Millennial Mindset is Driving India's Economic Growth
The ever-changing socio-cultural phenomena in India is transforming the way its citizens are prioritising their time and spending habits. This has been the result of a convergence of trends — the shift towards nuclear families, economic growth, the emergence of the millennial generation, and the ubiquity of the internet.
Budget for Leisure: How a Millennial Mindset is Driving India's Economic Growth
A week in review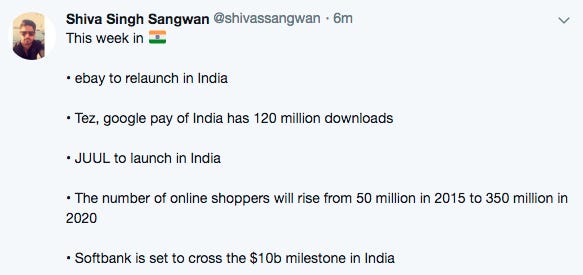 Thank you for reading. Please share any feedback, questions or comments
with me on Twitter
 :)