1947 Tech 🇮🇳 : 59
Once a week newsletter: Insights on Tech, markets, startups, venture capital, and foreign investments in India
1. A big funding round:
Oyo gets $100M from China's Didi Chuxing 
Chinese ride-hailing giant Didi Chuxing has invested $100 million in hospitality chain Oyo Hotels & Homes. The investment, which continues to value Oyo at about $5 billion
People familiar with the deal said that Beijing-headquartered Didi's investment is likely to be channeled into Oyo's fast-growing China business — Oyo Jiudian — a geography that the company has begun referring to as its second home market
The relationship between the two companies dates back to 2017 when Oyo had used the ride-hailing platform to announce its foray into the world's second-largest economy. At that time, the tagline read, 'Ride comfortably with Didi, Stay comfortably with Oyo.'
2. #HindustanHamara- The Land of a Billion Entrepreneurs
India has 29 states and seven union territories and each region has its own intricate customs, language, and food. In fact, we have over 3000 recipes across eight major cuisines! 
So, building for India is more challenging than building for most other countries. Successfully customizing experiences and products for India requires leveraging deep consumer insights.
Companies building for India cannot stop at one uniquely Indian feature but instead have to ensure that it is part of their core DNA. The upside is that if you can build for scale in a complex market like India, then you can easily deploy your product at scale anywhere in the world. In fact, Uber has been vocal about how it uses India as a testbed for global innovation including cash rides and the Uber Lite app.
3. Indians are the biggest believers in the rags-to-riches fairytale
People in the country have the highest confidence in upward social mobility, according to a World Economic Forum (WEF) survey of over 10,000 adults in 29 countries. The results of the survey, released late last week, suggest that Indians, more than any other nationality, believe it is common for someone in their country to start poor, work hard, and ultimately become rich.
But the reality speaks something else. 
Indians are the biggest believers in the rags-to-riches fairytale
4. Bytedance in trouble: Tamil Nadu govt to recommend banning TikTok 
The Tamil Nadu government will initiate a dialogue with the Centre on banning Chinese media-sharing platform TikTok in view of its application to circulate extreme content, particularly among a younger demographic of netizens
The debate in the Assembly was initiated by Nagapattinam lawmaker Thamimun Ansari, who told ET, "I raised an issue forwarded to me by community welfare workers that the mobileapplication (TikTok) was acting as a platform for heated debates inimical to law and order, and sharing of sexually-explicit material. The minister supported my charge and promised to take steps to ban the application in Tamil Nadu."
Bytedance, the parent company of TikTok, had hired former MasterCard India and Samsung executive Sandhya Sharma to take care of government relations in India, which accounts for 39% of its global users of 500 million people. As of January 31, TikTok has 24.5 million daily active users in India, according to digital marketing intelligence service SimilarWeb.
A week in review 
Excellent chart by Sajith Pai of Blume ventures illustrating Indian consumer market.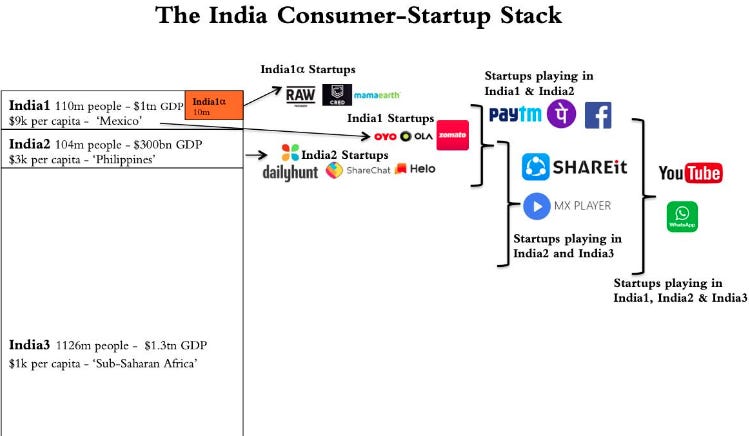 Thank you for reading. Please share any feedback, questions or comments
with me on Twitter
 :)