Discover more from 1947 Tech Newsletter 🇮🇳
All you need to know about the Indian technology ecosystem in 5 minutes. Subscribed by over 80% of unicorn founders in India and the world's best VCs A fresh new issue every week!
Over 1,000 subscribers
1947 Tech 🇮🇳 : 60
Once a week newsletter: Insights on Tech, markets, startups, venture capital, and foreign investments in India
1. Flipkart co-founder Sachin Bansal invests $92M in Ola
The money is starting to flow from India's largest startup exit. Ola has added a major name to its ongoing financing round after it confirmed that Flipkart co-founder Sachin Bansal has invested 650 crore INR (around $92 million) into the Indian ride-hailing business.
The investment is part of an ongoing Series J round of financing that is likely to exceed $1 billion and would value Ola, which competes fiercely with Uber in India, at around $6 billion. Bansal's commitment comes a month after existing investor Steadview Capital put $75 million toward the round.
2. What will a Gurugram vs Bengaluru startup match look like?
To decide what location you would want to start your startup, this article is a great read. 
Bangalore has a clear edge when it comes to tech infrastructure and the overall ecosystem, Gurugram has a better mix of consumers and superior physical infrastructure (wider roads, good metro connectivity and availability of good accommodation close to the workplace were cited as three major advantages).
Basically, Gurugram is known for the market whereas Bangalore is known for tech talent. Choose Gurugram if your product/service is market focused. Choose Bangalore if your product/service is tech-focused.
3. How desi tech lobby is giving Silicon Valley giants a run for its money
"American startups have market depth and Chinese startups have wallet depth. They are infiltrating the country. What do Indian startups have?" said a technology startup founder, on the condition of anonymity. "We need protection the way China had. Look at how big their technology industry has grown. We, at least, now have an Indian lobby." 
Indian technology companies are ready to fight tooth and nail to retain control over the 'Next Billion Users' against US and Chinese giants. They have already lost the first 200 million Internet users to the US tech giants. Recent policy submissions by Jio, PayTM and Sharechat call for US tech's higher legal accountability to India and local incorporation.
How desi tech lobby is giving Silicon Valley giants a run for its money
4. India1, Avocado Startups & Product-Market Fit
If you are looking to understand the consumer market in India. This is a must-read article.
A good way to see India is thus as a four-tier market, with each tier being able to support a set of native startups, which struggle to expand beyond their market. Each market has its distinct audience profile, pricing sensitivity, cultural attributes and competitive dynamics. Product market fit (PMF hereafter) in one market doesn't automatically translate to the possibility of a fit in another. If anything product market fit in one market makes it tougher to succeed in another. There are just a handful of products, typically with universal uses cases (Youtube, Whatsapp, Flipkart etc) that have succeeded in both India1 and India2.
A week in review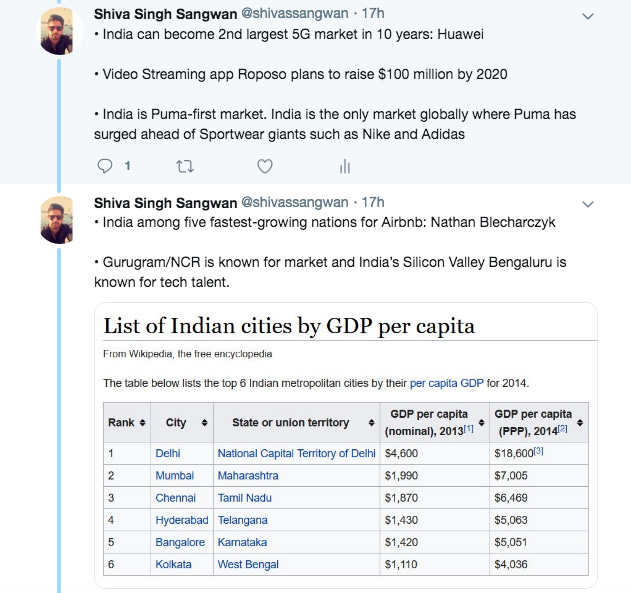 Thank you for reading. Please share any feedback, questions or comments
with me on Twitter
 :)