Discover more from 1947 Tech Newsletter 🇮🇳
All you need to know about the Indian technology ecosystem in 5 minutes. Subscribed by over 80% of unicorn founders in India and the world's best VCs A fresh new issue every week!
Over 1,000 subscribers
1947 Tech 🇮🇳 : 61
Once a week newsletter: Insights on Tech, markets, startups, venture capital, and foreign investments in India
1. Spotify looks to test new features in India
After a year long wait, Swedish music streaming major, Spotify finally launched in India, amid a legal tussle with music label Warner Music Group, in a competitive domestic market.
India can emerge as a key test market for several of Spotify's upcoming features which may then be exported to other markets, the company's India managing director Amarjit Singh Batra told ET. 
"India is an important market for Spotify because this is where you will be able to test some of the learnings we have had in other markets," Batra said. Spotify introduced several new India-first features on Wednesday when it debuted the service in the country.
2. How the center of gravity of India's startup ecosystem is shifting towards B2B startups
The center of gravity of India's startup ecosystem is shifting in favor of a new breed — business-to-business startups with enterprises as their primary customer.
Udaan, a B2B marketplace born in 2016, is the company that has reached the $1 billion dollar valuation milestone the fastest. Browserstack, a seven-year-old bootstrapped web testing platform, is now valued at $500 million, despite raising its series A funding just last year. From GreyOrange to Freshworks, Rivigo to Pine Labs, LendingKart to Druva, India will likely have more than 10 B2B unicorns by 2019.
This isn't just about the big breakout startups. Data trends signal a broad secular shift. According to the consultancy firm Zinnov, B2B startups were just 26% (900) of the total 3,100 startups in India in 2014. But growing at a faster clip, they now comprise 43% (3,200) of the total 7,400 in 2018.
How the centre of gravity of India's startup ecosystem is shifting towards B2B startups - ETtech
3. Kwai, VMate step back as TikTok dwarfs all in Indian short video market
Indian App ecosystem is dominated by Chinese Apps.
Chinese content giants that had flocked to India and were beginning to dominate the crowding market here are finding that there may not be enough space for them all.
Kwai, a short video app by Tencent-backed Kuaishou, and Alibaba-backed VMate are rethinking their India strategy as Chinese giant ByteDance's popular platform TikTok races ahead to capture a large share of the domestic market.
TikTok, with 52 million monthly active users in India, leads the pack of short-video apps. The platform, popular among urban as well as rural users in the country, has consistently ranked among the top five apps on Google Play store in India for more than six months now. 
The number of top Chinese apps in Google Play store in India almost tripled from 18 in December 2017 to 44 12 months later. Most of these apps fell in the categories of either utility or entertainment.
Kwai, VMate step back as TikTok dwarfs all in Indian short video market | FactorDaily
4. Big funding round: ShareChat in talks to raise $200M in fresh funding
ShareChat, a regional language social media platform, is in talks with Tencent Holdings and others for funding to raise as much as $200 million.
Founded in October 2015 by three IIT-Kanpur alumni, Ankush Sachdeva, Farid Ahsan and Bhanu Singh, ShareChat allows users to discover and share content in Indian languages. 
It currently allows users to create posts, follow people, consume all types of multimedia content, message one-on-one and even share things onto various other communication platforms. 
At a time when Chinese media giants are foraying into the Indian regional content startups space, Tencent, best known for its WeChat messaging service, could help ShareChat take on the rivals — Helo and TikTok.
5. Amazon India ties up with Kudumbashree to empower women
Partnerships with the government in India can pay big dividends. 
Amazon India has signed an MoU with Kudumbashree, a poverty eradication and women empowerment programme implemented by Kerala government as part of its programme- Amazon Saheli.
Through this partnership, Amazon India will support, train and empower women entrepreneurs associated with the organization and provide a marketplace for them to showcase their products to Amazon customers across the country.
A week in review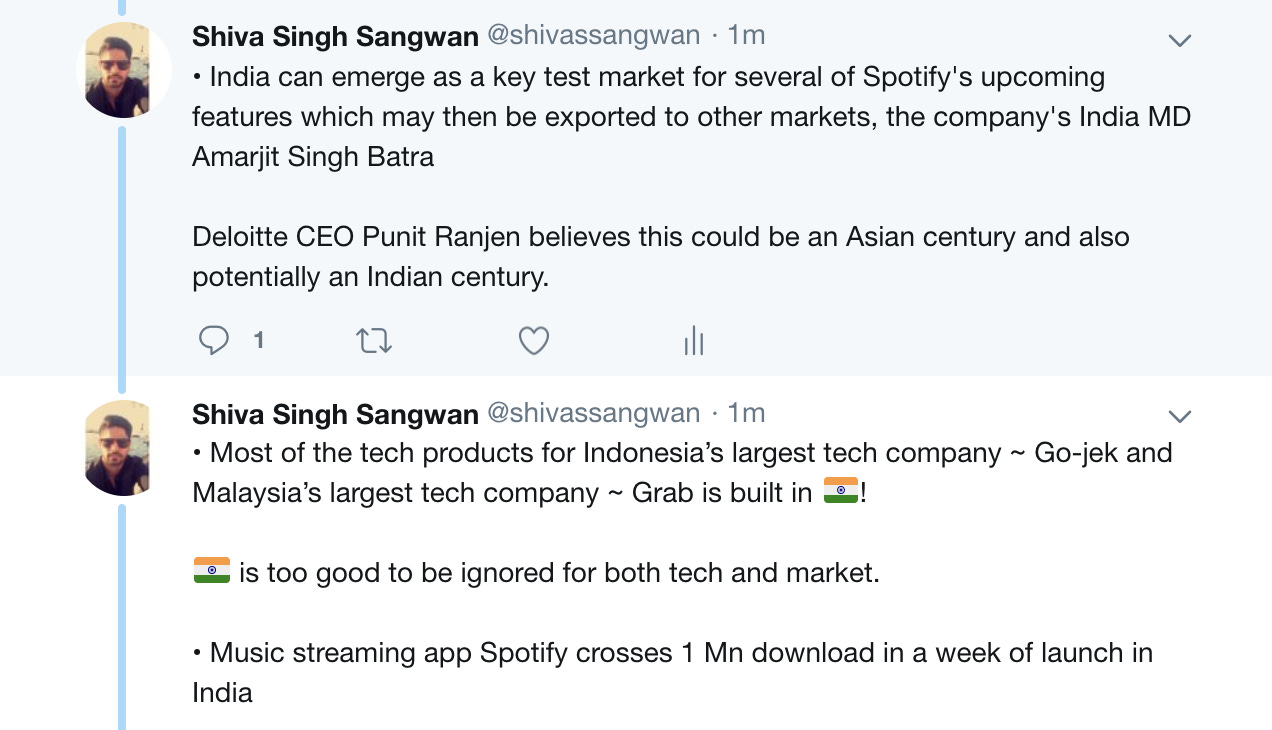 Thank you for reading. Please share any feedback, questions or comments
with me on Twitter
 :)