Discover more from 1947 Tech Newsletter 🇮🇳
All you need to know about the Indian technology ecosystem in 5 minutes. Subscribed by over 80% of unicorn founders in India and the world's best VCs A fresh new issue every week!
Over 1,000 subscribers
1947 Tech 🇮🇳 : 62
Once a week newsletter: Insights on Tech, markets, startups, venture capital, and foreign investments in India
1. Mind-blowing: India beats UK and US on mobile data price
The core reason why we are seeing an insane digital transformation in India:
Top five nations:
India — $0.26

Kyrgyzstan — $0.27

Kazakstan — $0.49

Ukraine — $0.51

Rwanda — $0.56
Asian nations make up half of the top 20 cheapest countries, with only Taiwan, China and South Korea charging more than the global average.
As we know the value creation is moving from the west to the East. Mobile data price will play a big role in enabling the upcoming value creation in Asia. 
Some stats on Asia:
62% of the world's GDP growth will come from Asia in the next decade

90% of the next billion middle class population will come from Asia
2. India is seeing similar changes to consumer habits as western countries.
The changes that have been seen in North America and Europe over the last decade in how and why consumers buy food and in what they eat is being replicated in India, Shahdadpuri says. But the investor argues the larger companies in the country, be they domestically- or overseas-owned, are not reacting quickly enough, presenting opportunities for start-ups to capitalize.
There are nuances in India, Shahdadpuri explains — he points to the "huge heritage" of ayurveda, as an example — but he believes India was seeing very similar changes among the 300m of the country's 1bn population said to be part of the global middle class. "We want the same products we see on Instagram. We want the same products we see on TV. Information is passing at supersonic speed. They are attuned to these products abroad and they just want to have the same products available," he says.
There is so much white space in CPG space in India. It's a great time to be an entrepreneur and an investor in consumer space. 
"We will see a large number of new brands emerging" — DSG Consumer Partners' Deepak Shahdadpuri on…
3. New e-commerce: VCs click on smaller, niche e-tailers
India will have 536 million internet users using vernacular languages by 2021, exceeding those using English. There are only about 100 million users that can speak or read English in India.
So for that reason, top venture capital investors in India are making about half a dozen early bets on a new set of e-commerce companies. These startups are catering to the next wave of internet users who have come to the e-market.
Some of these platforms are also leveraging the bargain-hunting and social-shopping behaviour to build trust. For instance, Jaipur-based DealShare rewards a user based on the number of times he or she is able to share a deal with friends and family who eventually buy it. The more people you can nudge to buy, the higher your incentives are.
4. Big funding round: SoftBank fulfils its $350M promise made to Delhivery 
SoftBank has completed its investment in logistics major Delhivery, having put in about $350 million into the Gurgaon-based company, in the process catapulting it into India's growing list of startups with billion-dollar valuations.
The latest round values Delhivery at a little over $1.6 billion, according to paper.vc, highlighting a significant jump in the valuation of the eight-year-old company. In its last round of funding, the company was valued at about $634 million.
E-commerce and marketplace startups in India have created a huge opportunity for Logistics space in India. 
---
Multinational companies can call India by its new nickname: "Growth" 
India is the world's last greatest untapped opportunity.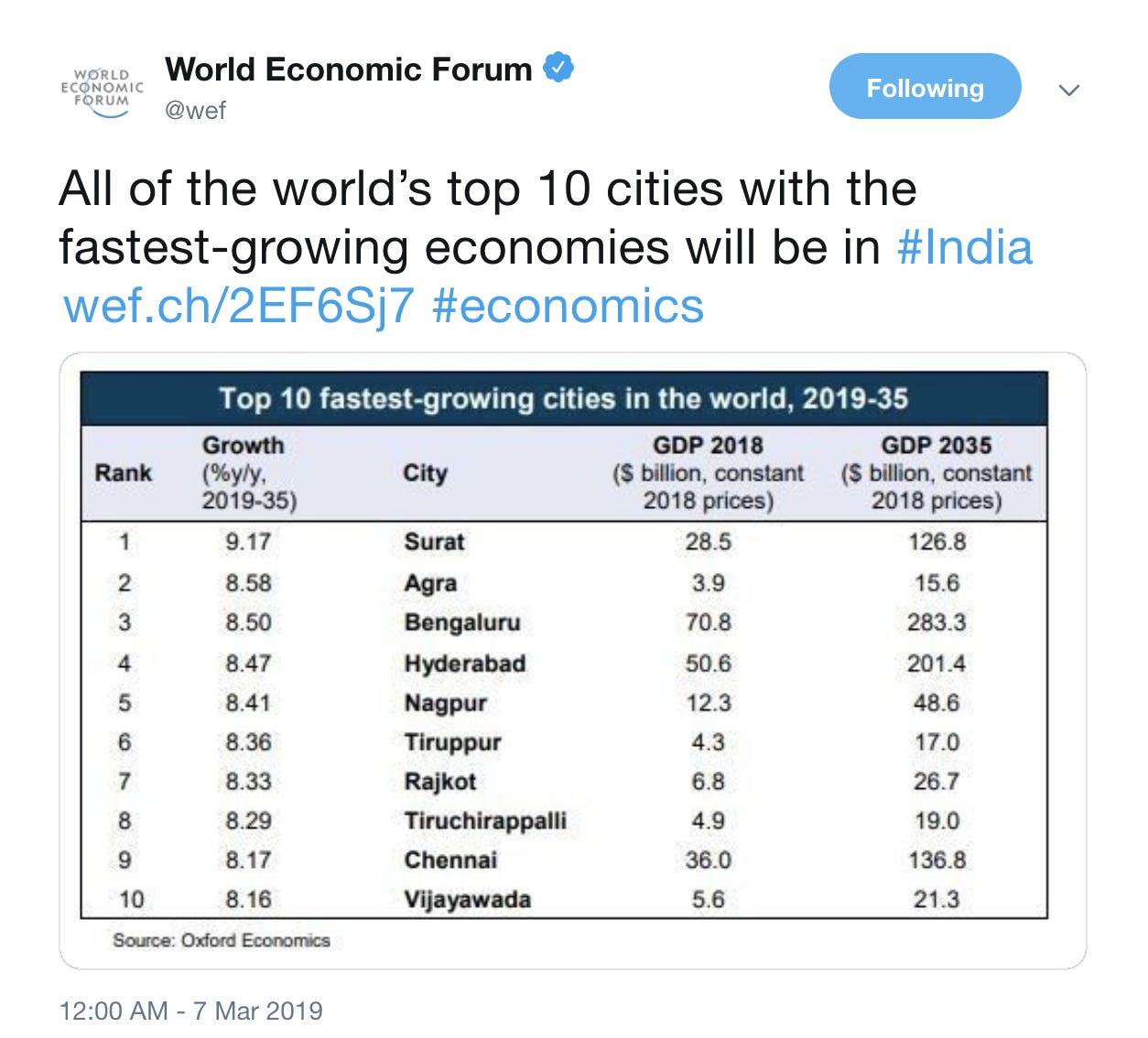 A week in Review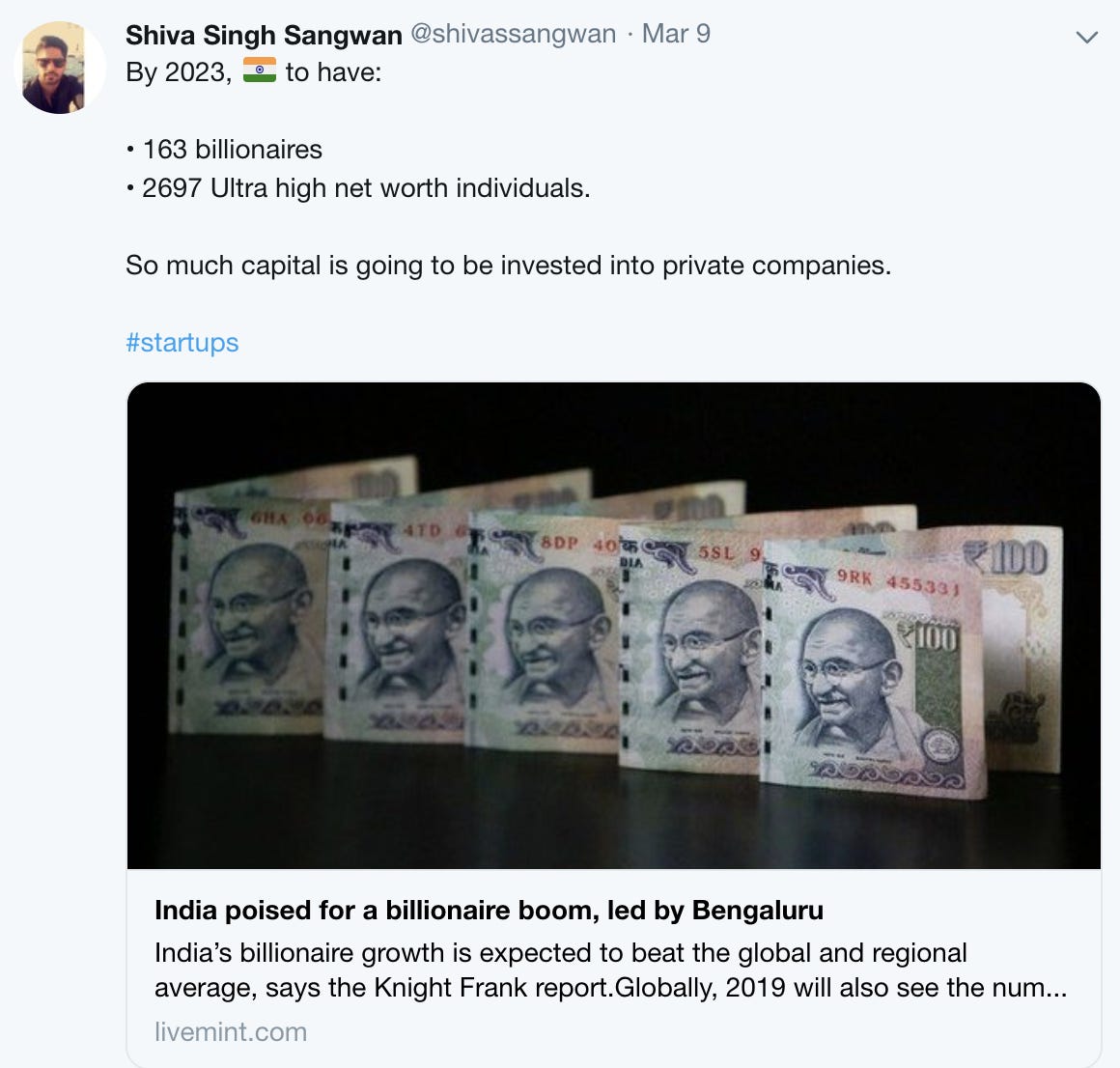 Thank you for reading. Please share any feedback, questions or comments
with me on Twitter
 :)