1947 Tech 🇮🇳 : 63
Once a week newsletter: Insights on Tech, markets, startups, venture capital, and foreign investments in India
1. Google and Firefox join the bandwagon of light-weight apps aimed at emerging markets like India
Latching onto the bandwagon of 'lite' apps being introduced into the market, Google and Firefox launched the light versions of their mobile web browsers on Wednesday in India.
While internet penetration may be increasing in the country, internet speeds growing at a much slower rate — 'lite' apps are a way for companies to cater to users who don't necessarily receive the best internet connectivity.
Tencent-backed gaming company PlayerUnknown's Battlegrounds (PUBG) and social sharing giant TikTok are the other two companies that launched lite versions of their apps in India.
Google and Firefox join the bandwagon of light-weight apps aimed at emerging markets like India
2. Internet users in India to reach 627 million in 2019: Report
India's internet users expected to register double-digit growth to reach 627 million in 2019, driven by rapid internet growth in rural areas
Internet usage in the country has exceeded half a billion people for first time, pegged at 566 million
Of the total user base, 87 percent or 493 million Indians, are defined as regular users, having accessed internet in last 30 days. Nearly 293 million active internet users reside in urban India, while there are 200 million active users in rural India
While internet users grew by 7 percent in urban India, reaching 315 million users in 2018, digital adoption is now being propelled by rural India, registering a 35 percent growth in internet users over the past year.
The future in India is rural India, vernacular, and voice.
Internet users in India to reach 627 million in 2019: Report
3. Samsung steps up localisation game; inks app store deal with IndusOS
Samsung is deepening its localization efforts and has tied up with domestic operating system developer IndusOSto offer its app store in 12 Indian languages on the entire Galaxy smartphone range in a bid to overthrow market leader Xiaomi.
Samsung's Chinese rivals Xiaomi, Oppo and Vivo are behind in terms of localising apps and offering vernacular services, a gap that the former №1 smartphone maker seeks to exploit, especially with only 15% of the population fluent in English, analysts said. The South Korean company hopes to tap the next generation of smartphone users expected mostly from rural India.
Samsung steps up localisation game; inks app store deal with IndusOS - ETtech
A week in review:




Google Chrome is winning in India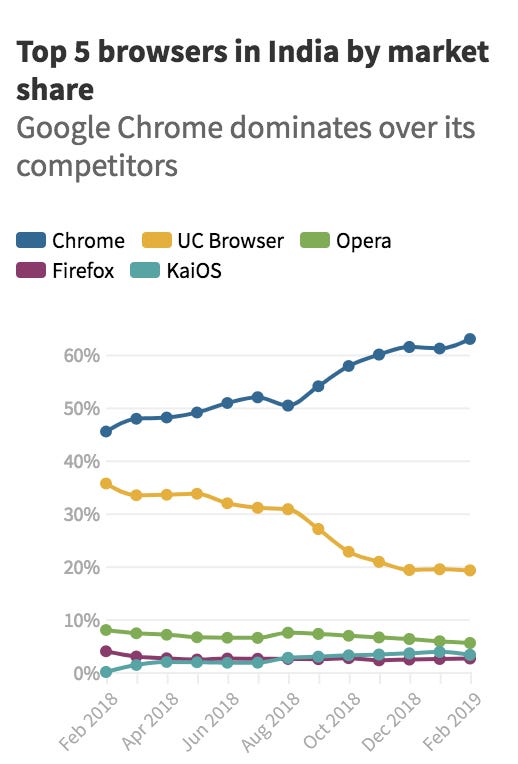 Thank you for reading. Please share any feedback, questions or comments
with me on Twitter
 :)