1947 Tech 🇮🇳 : 64
Once a week newsletter: Insights on Tech, markets, startups, venture capital, and foreign investments in India
1. Millennials in Rural India shaping consumption patterns in the hinterland
India is home to the world's largest population of millennials — typically defined as those aged 18–35. At 450 million, these millennials are influencing the way Indians eat, shop, commute and buy, much like their global counterparts.
Out of 450 million millennials, 300 million lives in rural India.
As India's millennial population has emerged as a sizeable demographic, marketers across the board are relooking at how they can serve them better. The urban Indian millennial, for instance, is well exposed to global trends and continues to seek similar experiences closer home. For rural Indians, higher aspirations and growing access to the world are driving their purchases.
Millennials in Rural India shaping consumption patterns in the hinterland
2. Digital Transformation in Rural India; One Internet Saathi at a time
Internet Saathi is a digital literacy program started by Google and Tata Trusts in 2015, with the aim of improving internet penetration and usage by women in rural India.
The program has created a network of Internet Saathis, women trainers, each responsible for a village or a cluster of villages. It is based on train-the-trainer model where Google provides access to the content, training plans and devices while Tata Trusts helps with on-ground enablement. Each Internet Saathi goes back post training to evangelise the uses of the internet while also coaching women in the village to use the information available online for starting or improving their micro enterprises. Use cases range from rural entrepreneurship to looking up remedies for common ailments to information about boosting crop health for their agricultural communities.
The Internet is a great equalizer.
Digital Transformation in Rural India; One Internet Saathi at a time
3. Delhivery joins unicorn club with $413M from SoftBank, others — ETtech
Logistics startup, Delhivery has raised $413 million in its latest round of equity financing led by SoftBank's Vision Fund, the Gurgaon-based company announced on Sunday.
The transaction has also seen participation from Delhivery's existing investors, bulge-bracket private equity firm Carlyle Group and Chinese conglomerate Fosun.
The financing round is likely to value the company at about $1.5 billion, post-money, sources in the know of the deal details said.
Delhivery provides the full suite of logistics services, including, express parcel transportation, LTL and FTL freight, reverse logistics, cross-border, B2B & B2C warehousing and technology services.
Delhivery joins unicorn club with $413M from SoftBank, others — ETtech
4. Online food delivery wars are moving from India to Bharat
Muktsar in Punjab, with a population of 1.5 lakh, is not a city one would think would be on the radar of India's big internet companies that are helping restaurants deliver to homes through mobile applications. But it is. 
For two reasons. One, it is the city where online food delivery and restaurant discovery company Zomato's founder & CEO Deepinder Goyal was born and brought up. Two, the city is witnessing a battle for market domination between Gurgaon-based Zomato and its Bengaluru-based rival Swiggy as they seek to penetrate the hinterlands.
Food delivery companies have been around for over five years. What has changed now is the deep penetration of cheap internet, which started with the launch of Reliance Jio in late 2016.
For Swiggy, which had started television commercials last year along with a major campaign during IPL, this led to an increase in brand awareness across the country. In June 2018, it was present in only 15 cities but had started seeing its mobile application being downloaded by millions across the country. That provided an indication of the potential demand.
Online food delivery wars are moving from India to Bharat — ETtech
A week in review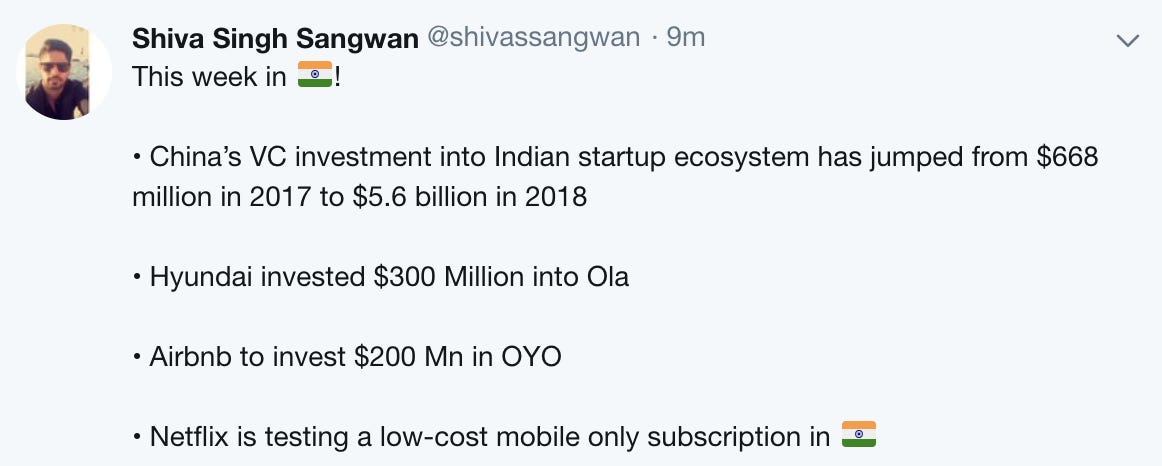 Thank you for reading. Please share any feedback, questions or comments
with me on Twitter
 :)