Discover more from 1947 Tech Newsletter 🇮🇳
All you need to know about the Indian technology ecosystem in 5 minutes. Subscribed by over 80% of unicorn founders in India and the world's best VCs A fresh new issue every week!
Over 1,000 subscribers
1947 Tech 🇮🇳: 71
Once a week newsletter: Insights on Tech, markets, startups, venture capital, and foreign investments in India
1. Future tech is built in India: Indian arm is steering wheel as Verizon deploys 5G in US
India is too good to be ignored for the following three reasons:
Tech Talent 

Massive Market 

India is viewed as Learning and experiment hub by global companies. The future tech is built in India
GCCs ( global capability centre )in India were set up merely as back-office centres focusing on operational efficiency, driven by cost arbitrage and abundance of capabilities. However, Over the last two decades, GCCs have transitioned to value creators.
India is where the future tech of global companies are built. For example, Verizon India, a subsidiary of the Nasdaq-listed Verizon Wireless, is playing a key role in testing and deploying 5G technology in the US.
---
Another testimonial: The market size in India for the MNC tech centre — also known as global capability centre (GCC) — touched $28.3 billion in 2018–19, compared to $19.5 billion in 2014–15, says a study by Nasscom and consulting firm Zinnov.
India has by far the biggest presence of GCCs in the world
Indian arm is steering wheel as Verizon deploys 5G in US - ETtech
2. It's springtime for India's startup financing industry and here's what made it happen
The Indian startup ecosystem has come of age. Flipkart's exit to Walmart for $16 billion was an inflection point for India. 
Now India has smart capital, massive market and mentors and advisors that have done it themselves in the past to help the next generation of entrepreneurs.
The problem in India is that it has a billion problems but on the flip side the good thing is that entrepreneurs in India have a billion problems to work on.
The article below beautifully illustrates the evolution of the tech ecosystem in India and what is next.
Something that surprised me the most was the following:
Since 2006, some $38 billion is estimated to have been invested in India's startup ecosystem, of which $34 billion is foreign money.
It's springtime for India's startup financing industry and here's what made it happen
3. Chinese dating app Tantan doubles its user base every three months in India
The difference between US companies and Chinese companies when entering India; US companies target metropolitan cities and tier 1 cities and their primary focus is on low volume, high margin transactions. On the other side, Chinese companies target Bharat. Tier 2, 3 cities and rural areas. Their focus is on high volume, low margin transactions.
TikTok has taken India by storm. They targeted tier 2, 3 cities and rural areas.
Tantan is taking a similar approach and it seems like they are doing great.
Tantan, a Chinese dating application that was launched in India last year, says it is doubling its user base every three months in the country.
Tantan, which is the most popular dating app in China with over 270 million users globally, competes with Tinder, Truly Madly, Happn, Azar and Bumble in India. Tantan is the world's third-largest earner after Tinder and Bumble.
"We have big plans for India with an open budget. Most of the investments would be directed towards growing markets in tier 2 cities and educating the youth to try new ways of expanding their social circle and even finding the right one" country head, Tantan
Chinese dating app Tantan doubles its user base every three months in India
4. A big round of funding:
E-grocer Grofers picks up more than $200M led by SoftBank Vision Fund
Grofers has raised more than $200 million in fresh capital led by existing backer SoftBank Vision Fund, making it one of the largest investments in the online grocery retailing segment.
SoftBank's move to double down on Grofers puts on hold the on-again, off-again merger talks the grocery delivery service has held with players like the Alibaba-backed BigBasket, among others. Closest rival BigBasket said earlier this month that it had closed a $150 million financing round led by South Korea-based Mirae-Naver and China's Alibaba Group, valuing the startup at over $1 billion
The fresh capital gives Grofers additional firepower to fight top ecommerce companies including BigBasket, Flipkart and Amazon, all of which are aggressively scaling up their grocery businesses.
E-grocer Grofers picks up more than $200M led by SoftBank Vision Fund
A week in review: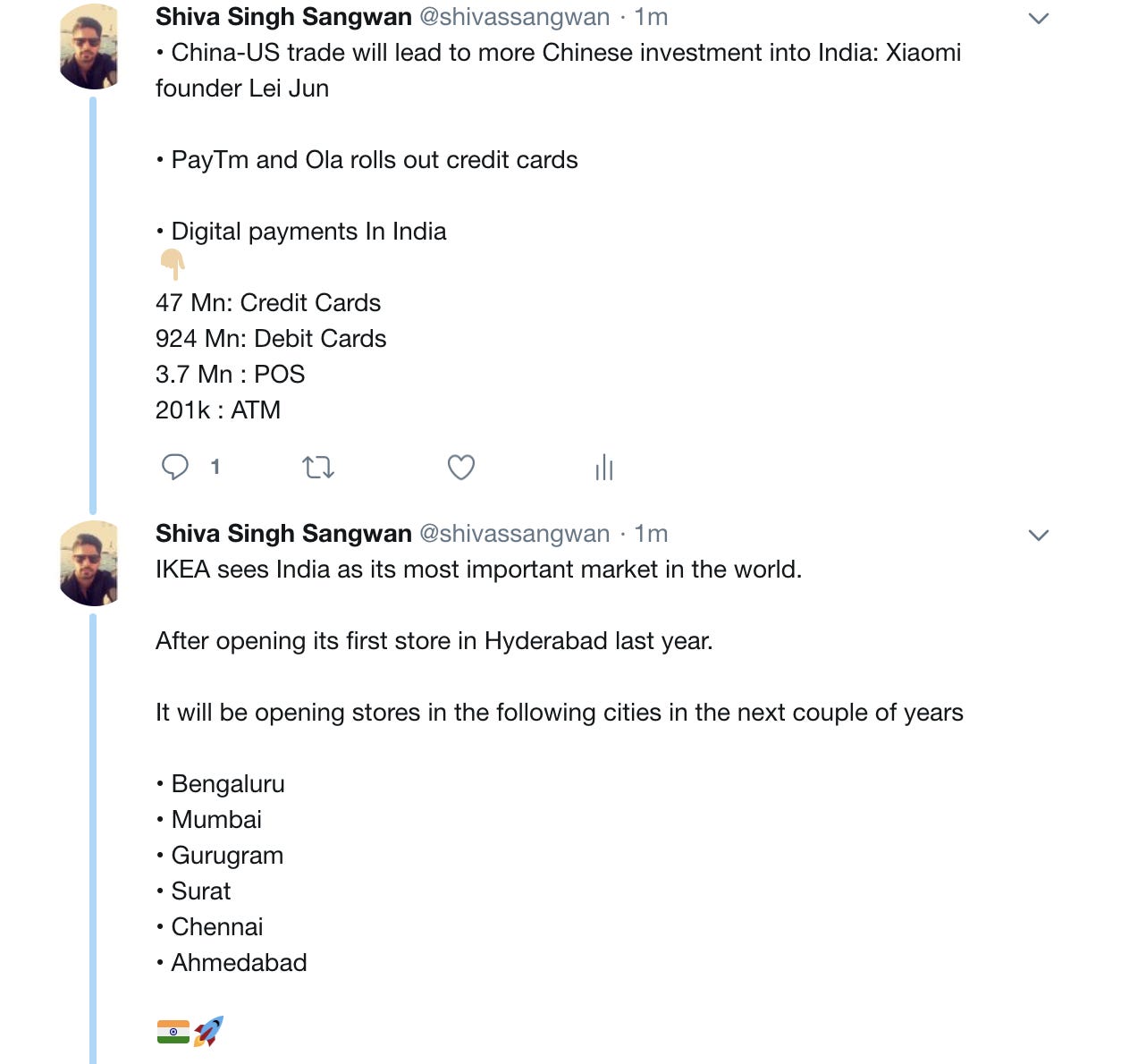 Thank you for reading. Please share any feedback, questions or comments
with me on Twitter
 :)