Discover more from 1947 Tech Newsletter 🇮🇳
All you need to know about the Indian technology ecosystem in 5 minutes. Subscribed by over 80% of unicorn founders in India and the world's best VCs A fresh new issue every week!
Over 1,000 subscribers
1947 Tech 🇮🇳: 72
Once a week newsletter: Insights on Tech, markets, startups, venture capital, and foreign investments in India
1. Startups head over to GeM to capture government as clients
I can't emphasize enough how important it has become to collaborate with the government in India. I would even put government collaboration in India on the top of my priority list. 
The government could be your biggest client, it could be your biggest enabler.
The government in India would welcome you with open arms and a tight hug. Be creative and figure out a way to work with the government in India. It could become your biggest leverage.
Few examples:
Amazon India has signed an MoU with Kudumbashree, a poverty eradication and women empowerment programme implemented by Kerala government as part of its programme- Amazon Saheli.
Through this partnership, Amazon India will support, train and empower women entrepreneurs associated with the organization and provide a marketplace for them to showcase their products to Amazon customers across the country.
Google India is offering free wifi on 400 railway stations in India in collaboration with the Indian railways. 8 million Indians have used free wifi provided by Google.
2. How well did brands fare this election season? 
Politics play a massive role in Indian culture. General elections in India is the biggest event in India. Even bigger than IPL ( Cricket ). 
A brand, a company, an organization must figure out a way to ride this wave. 
A wave of exposure.
News networks report a 10% growth in advertising and subscription revenue from this General Election. 
Few case studies:
Samsonite — #EkDinKiChutti (a one-day leave) campaign video got more than 2 million views on YouTube in less than a week of its launch. 
Flipkart — "we may be different but our vote makes us equal". The video has so far garnered 36 million views on YouTube.
Zomato — "Zomato Election League" In the first 36 hours of polling, 7,76,127 users ordered on the food delivery platform.
How well did brands fare this election season? — Exchange4media
3. Lenskart set to turn unicorn with likely $350M SoftBank funding
A country is called developed when it starts producing multinational companies in a large number and when it starts exporting goods and services to other countries.
India is right there.
A common thread that I have been noticing in India:
Go-global from day one mindset. More and more India based companies are expanding outside of India. 
Reason? 
Indian entrepreneurs are becoming more sophisticated, scaling and moving at a lightning speed. 
What works in India also works in SEA, MENA, and Latin America
Eyewear retailer Lenskart is in talks with SoftBank Vision Fund to secure $350 million in fresh funding, which is likely to value the Delhi-based firm at $1.3 billion
Lenskart recently entered Singapore and the plan is to open 50–60 stores over the next three years in the island-city, before expanding to markets such as the Philippines, Taiwan and the Middle East
Lenskart set to turn unicorn with likely $350M SoftBank funding
4. A look at Startup India's top priorities as Modi-led govt comes back to power
A nation can't be built to its fullest potential without public and private collaboration.
The great thing for the Indian startup ecosystem, India and it's citizens is that the government is getting behind the startup ecosystem in India. It has realized the importance of the technological revolution.
The initiatives the government took last week:
 DPIIT plans to set up an India Startup Fund with a corpus of Rs 1,000 crore 

Niti Aayog proposes Rs 7500 crore plan for AI push

Startup India vision 2024 — Aim is to invest in 50,000 startups
Startups are preparing to restart conversations around multiple issues with the Narendra Modi-led government, as the Bharatiya Janata Party-led National Democratic Alliance gets set to retain power by a huge margin for a second time. 
The top issues on the agenda include listing norms for startups, dual-class share structure, clarity on revised e-commerce rules and status of the Aadhaar ordinance on data authentication
A look at Startup India's top priorities as Modi-led govt comes back to power
A week in review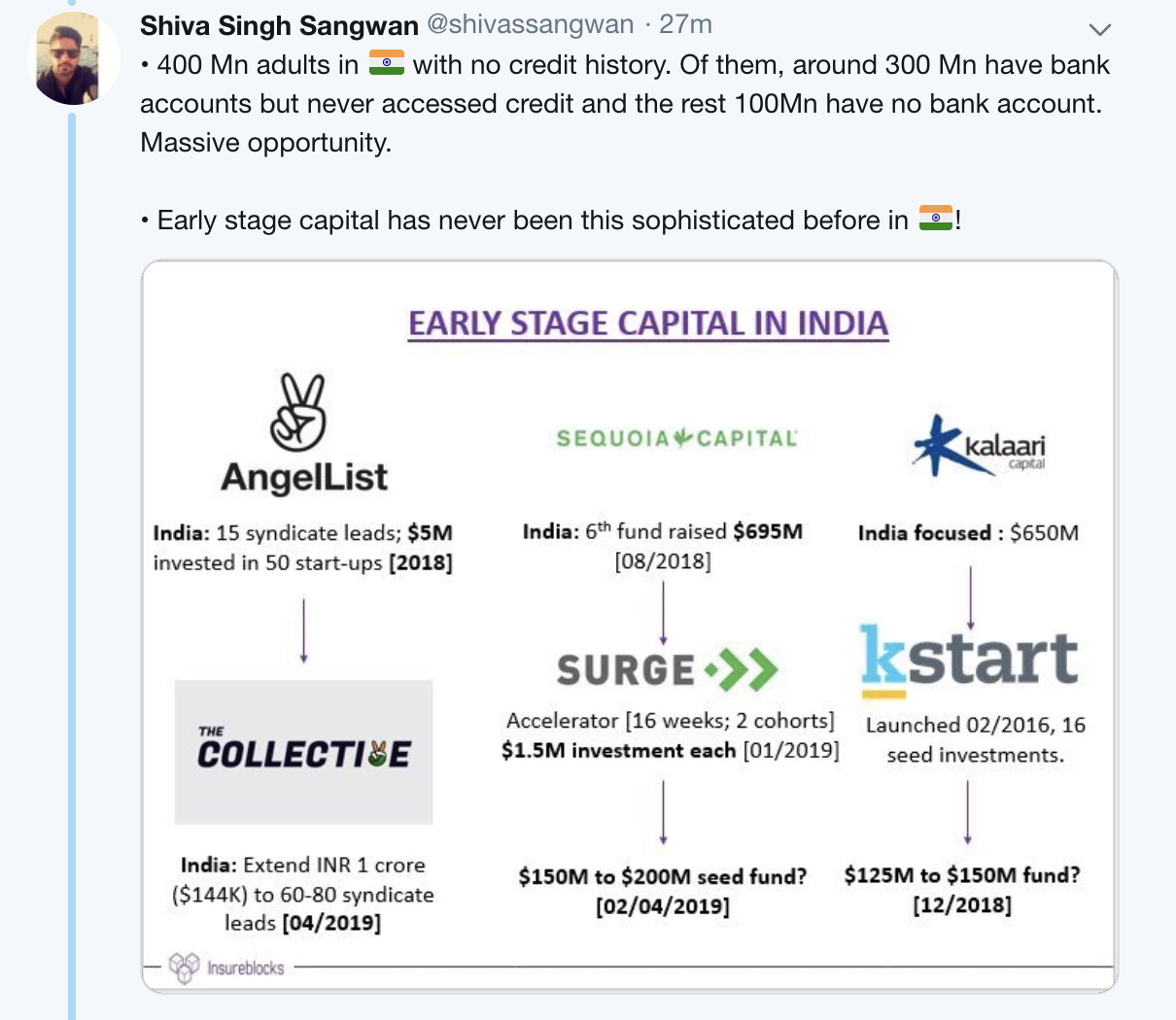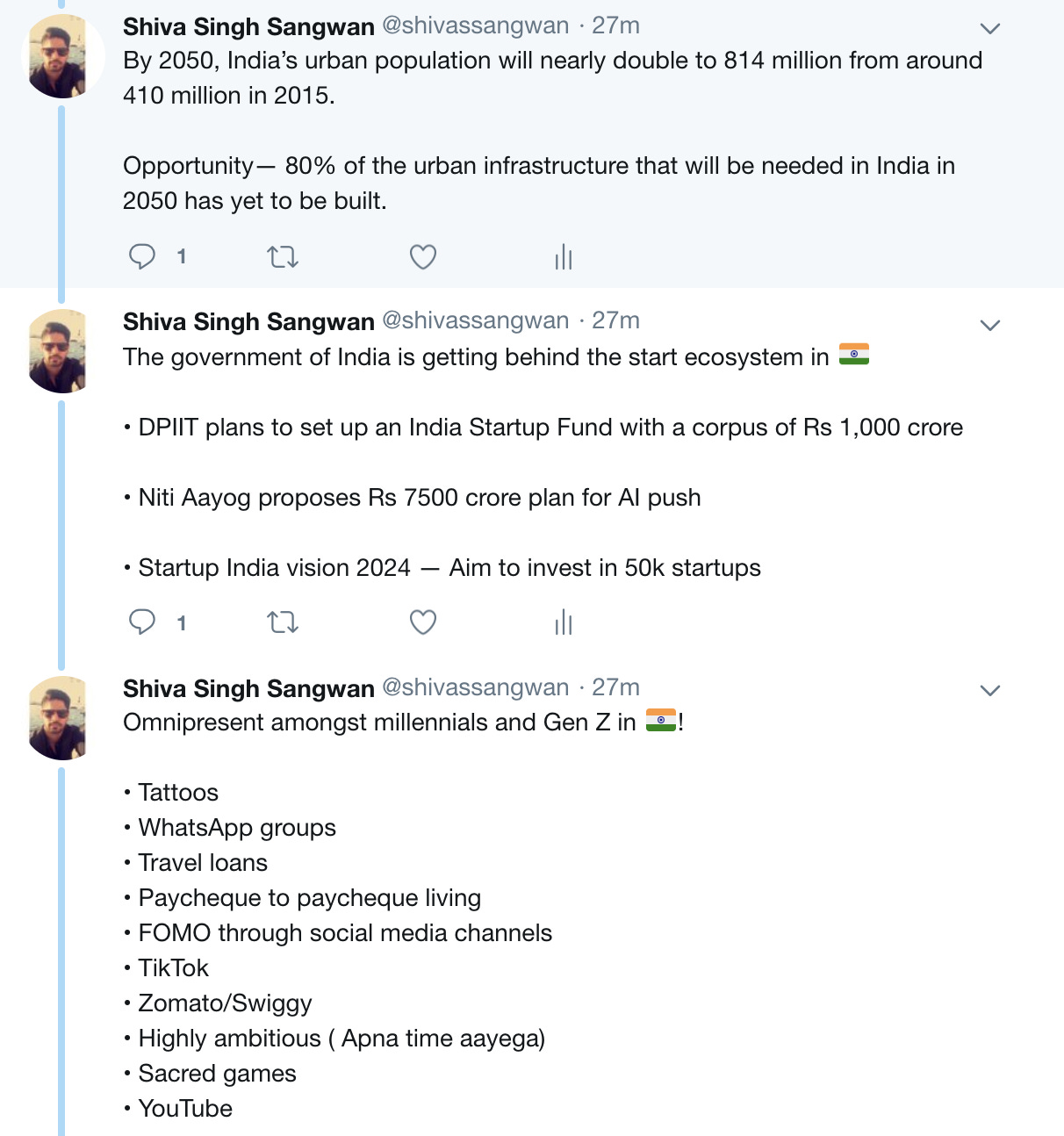 Thank you for reading. Please share any feedback, questions or comments
with me on Twitter
 :)