Discover more from 1947 Tech Newsletter 🇮🇳
All you need to know about the Indian technology ecosystem in 5 minutes. Subscribed by over 80% of unicorn founders in India and the world's best VCs A fresh new issue every week!
Over 1,000 subscribers
1947 Tech 🇮🇳: 74
Once a week newsletter: Insights on Tech, markets, startups, venture capital, and foreign investments in India
1. Digital colonization: Desi funders form collective to take on foreign investors
India is basically a digital colony of the US, China, and Japan for now. 
Why? 
Since 2006, some $38 billion is estimated to have been invested in India's startup ecosystem, of which $34 billion is foreign money. 
One of the reasons why India lacks domestic capital:
India has the highest number of millionaires leaving the country. Since 2014, 23,000 millionaires have left this country. In 2017, about 7,000 millionaires left India. The year before it was 4,000.
However, India has another big chance ahead. 
By 2023, India will have 163 billionaires (mostly tech billionaires, who would be looking to invest in other tech founders) and 2697 ultra high net worth individuals.
As we all know that the tech is the future. Most of the value and wealth creation will come from Tech companies. Indian investors have started to realize that.
A number of India's top home-grown investment firms, which cumulatively manage close to $800 million in assets, have come together to form a collective to take on foreign investors, and as well as to act as an advocacy platform.
2. About 100M people make online payments once a month: Nilekani-led panel
Why now is the greatest time to invest in India, expand to India, double down in India and startup India? 
The number of people who use digital payments at least once in a month stands at 100 million currently. 
The number could go up to 300 million by 2021.
About 100M people make online payments once a month: Nilekani-led panel
3. Twitter may invest more than $50M in ShareChat
Twitter is about to make its first global investment. 
Where? 
Not in China, not in Europe. 
Then? 
It's in India 
Why? 
India is the world's last greatest untapped opportunity. 
And the biggest opportunity in India is in building products and services for the masses. 
Masses = Bharat
Bharat = The next 400 million internet users
Twitter is leading a $100 million financing round in Indian language social networking app ShareChat
4. Path to profitability dominates Indian startups as profitable exits become more frequent
Startup hotspots around the world enjoy certain reputations. Israel is known for deep tech in all kinds of applications. Silicon Valley can throw up world-conquering tech and social networks but also companies that focus on the imagined needs of the urban American elite. 
China has created massive platforms, helped along by state protectionism, but has also managed to embed mobile commerce in daily life to an extent unfamiliar in the West.
 India is known principally for the promise offered up by its large domestic market, and lately also for the rich harvest of fast-growing start-ups valued at more than $1 billion, known as unicorns.
India's startup ecosystem has matured. The conversations in boardrooms and slick corridors of well-funded startups have changed from market potential and market share to earthy realities such as unit economics and path to profits.
Excellent read. 
Path to profitability dominates Indian startups as profitable exits become more frequent
A week in review: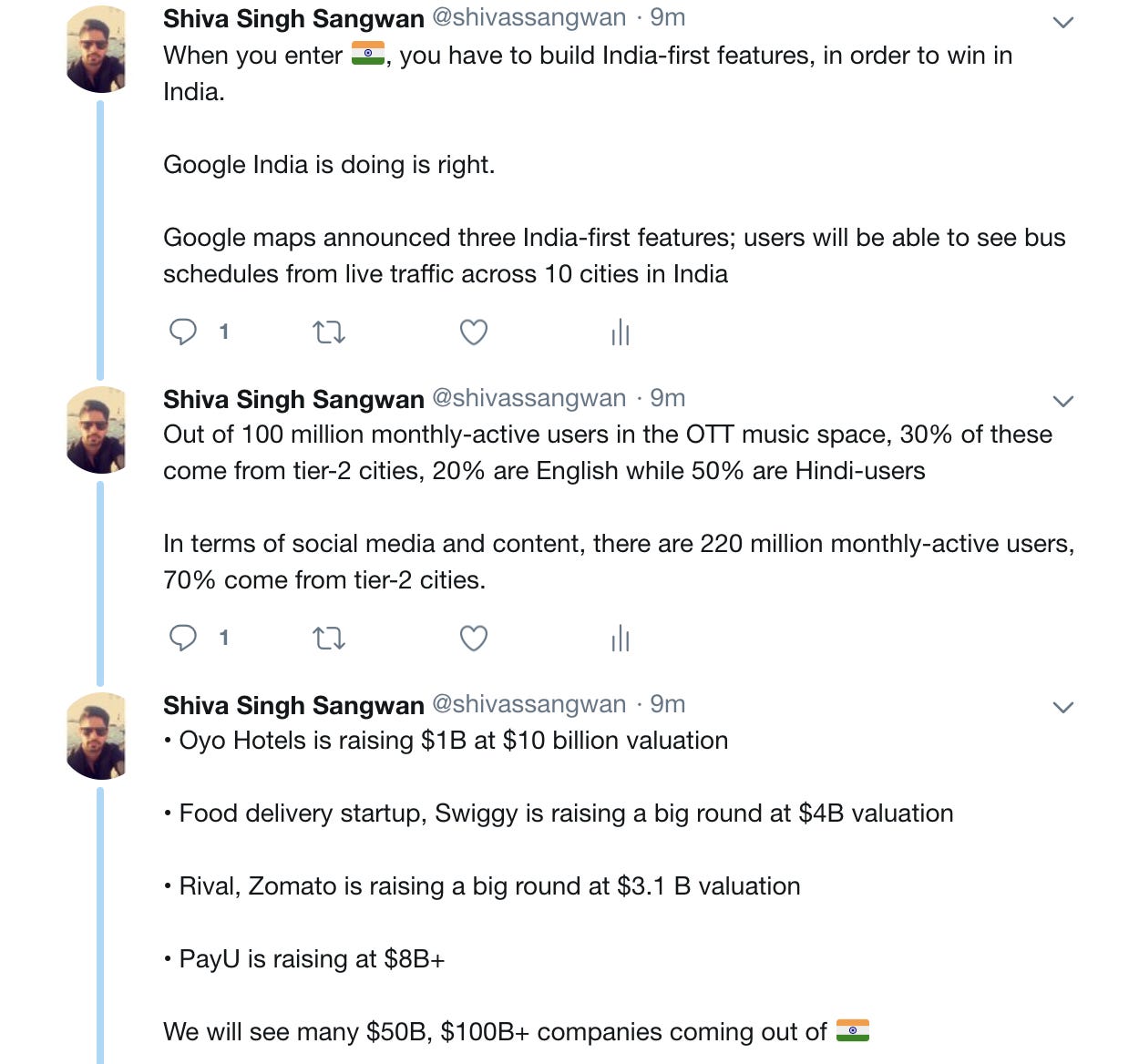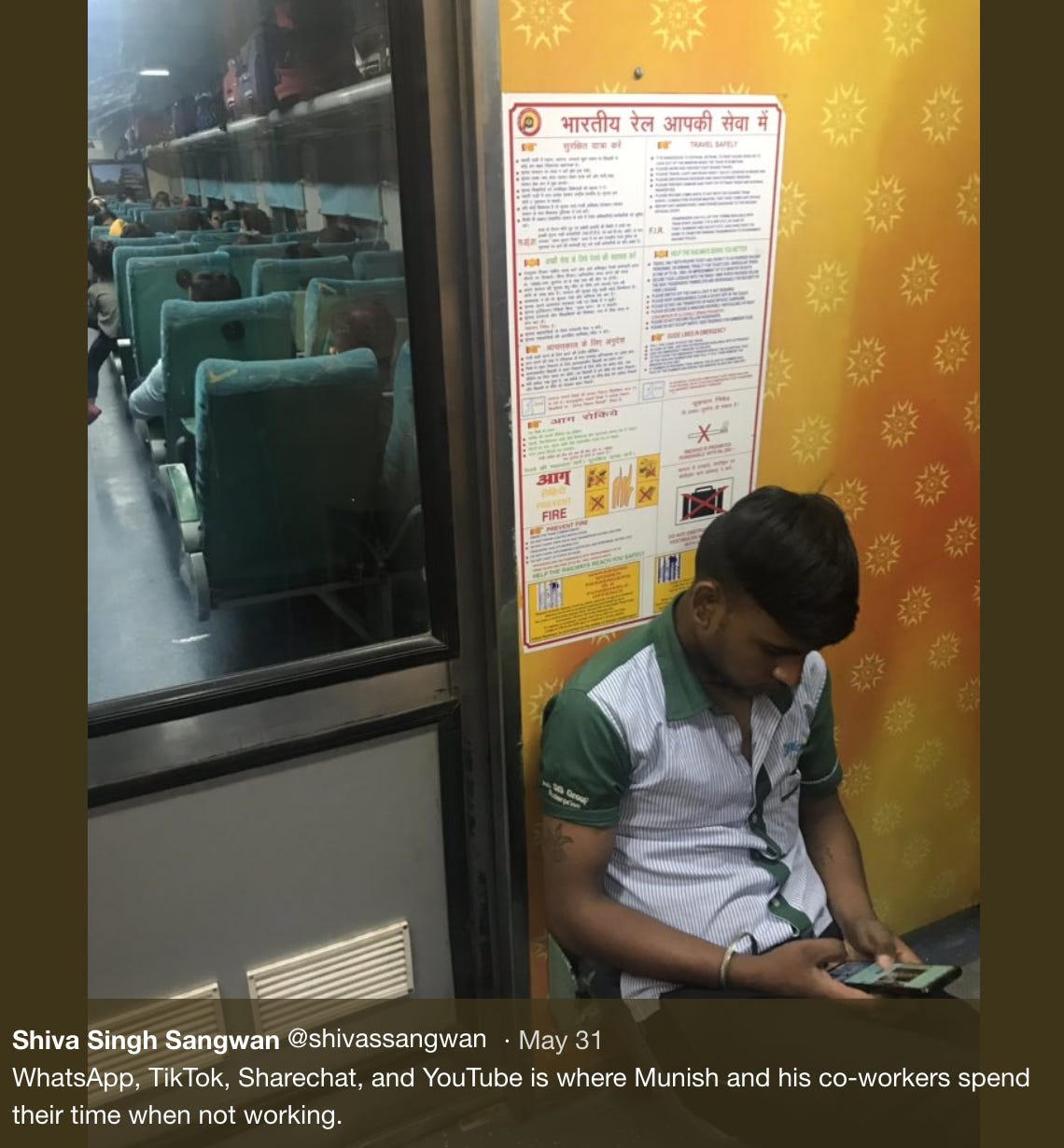 Thank you for reading. Please share any feedback, questions or comments
with me on Twitter
 :)