Discover more from 1947 Tech Newsletter 🇮🇳
All you need to know about the Indian technology ecosystem in 5 minutes. Subscribed by over 80% of unicorn founders in India and the world's best VCs A fresh new issue every week!
Over 1,000 subscribers
1947 Tech 🇮🇳: 77
Once a week newsletter: Insights on Tech, markets, startups, venture capital, and foreign investments in India
1. Gurgaon vs Bangalore: Capital Leader
If you are looking to expand to India or if you are a founder looking to start a startup and don't know where to launch.
This is a must-read article.
Gurgaon vs Bangalore 
If technology is your differentiator, choose Bangalore

If staying close to your market is important, choose Gurgaon. 

Gurgaon is the biggest consumption market in the country. Residents are early adopters of new trends and are willing to pay more for a better experience or trying out new concepts.

R&D centers of large and global companies are based in Bangalore

Sales and Marketing teams are based in Gurgaon

Bangalore is for Deep tech and B2B sectors 

Gurgaon is for Consumer product and consumer service sectors

It is hard to retain talent in Bangalore. 

Comparatively easier to retain talent in Gurgaon. This doesn't mean Gurgaon doesn't have good tech talent.

2x-2.5x more startups in Bangalore than in Gurgaon
2. Payments & food delivery apps launch games to increase users
Payment apps and food delivery platforms are launching games to increase user base and stickiness, with the ongoing cricket World Cup one such event where many Indian startups are utilizing to ratchet up the number of subscribers.
In-app games, such as Zomato Cricket Cup, Swiggy Match Day Mania, Paytm Games and Tez Shots by Google Pay, are just a few examples.
Paytm is offering a fantasy cricket game, First Captains, this World Cup which has seen more than 60% of users play the game daily.
Paytm has found that more than 70% of its users play these games daily.
Payments & food delivery apps launch games to increase users
3. India is doubling down on EV 
India has lost out in the solar power generation & mobile/smartphone industry previously.
But hey, it is doing everything possible to secure a position in the sunrise industry of battery storage & electric mobility.
Emerging whitespace industry in India — Manufacturing of lithium-ion batteries, charging stations, smart cars, and electric vehicles. 
This past week, Indian government & policymakers took the following initiatives:
Govt eyes strict emission rules to boost EVs
And startups in India are taking note.
Flipkart is moving its last-mile delivery fleet to electric vehicles

Ola Electric Mobility raises $250M from SoftBank at $1B valuation
4. How does India compare to SV hot-bed of enterprise innovation?
Excellent tweetstorm by Hemant Mohapatra, Partner at Lightspeed India!
A week in review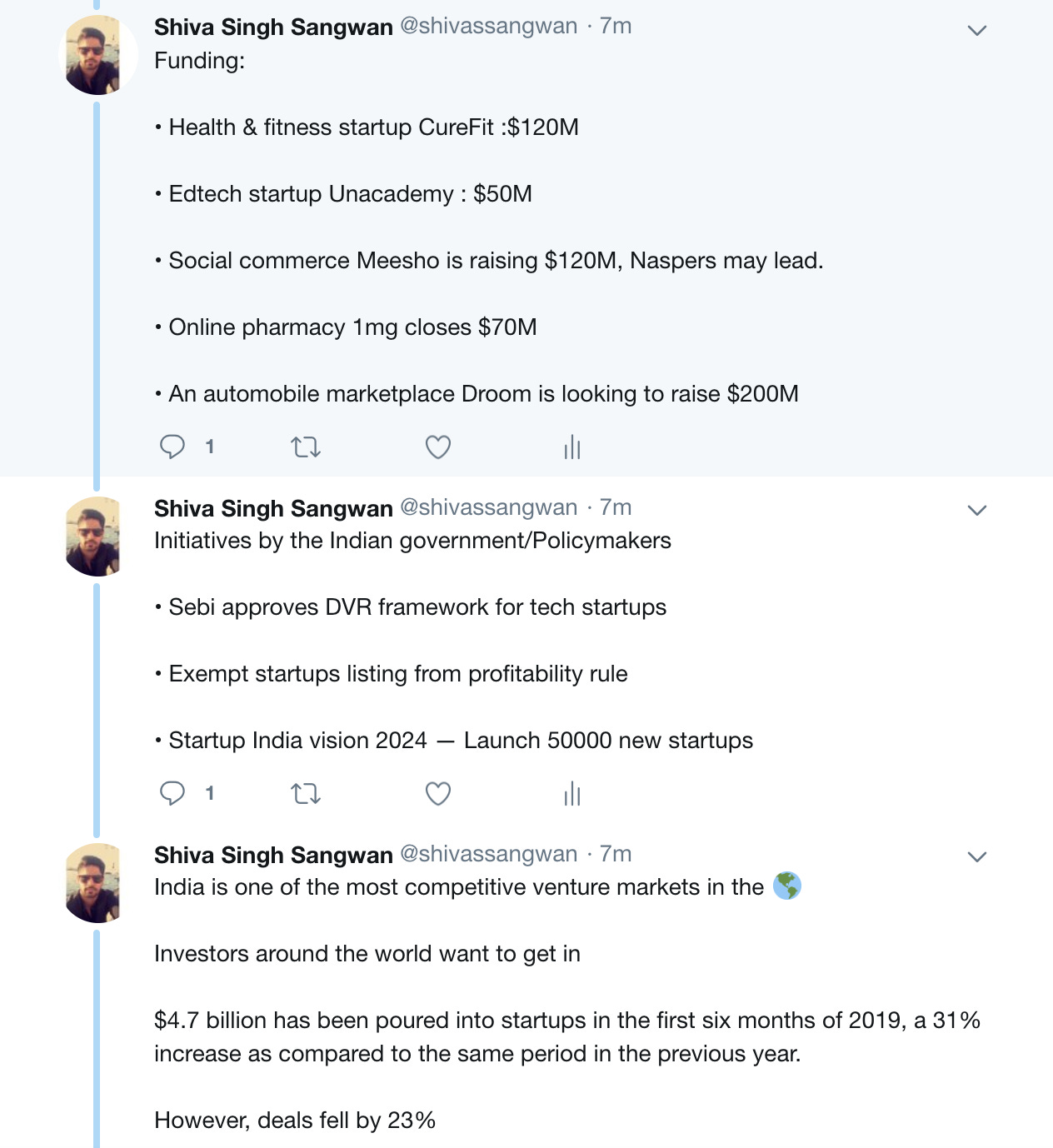 Thank you for reading. Please share any feedback, questions or comments
with me on Twitter
 :)