Discover more from 1947 Tech Newsletter 🇮🇳
All you need to know about the Indian technology ecosystem in 5 minutes. Subscribed by over 80% of unicorn founders in India and the world's best VCs A fresh new issue every week!
Over 1,000 subscribers
1947 Tech 🇮🇳: 88
Once a week newsletter: Insights on Tech, markets, startups, venture capital, and foreign investments in India
1. Festive bonanza for BYJU's employees: Value of ESOP pool crosses Rs 1,300 cr
Companies such as Paytm, OYO, BYJU's, BookMyShow, Freshworks, PolicyBazaar, Lenskart, Swiggy and Delhivery among a few others provided about $2.5 billion worth secondary exits to early backers.
Simultaneously, early employees of the companies mentioned above along with UrbanClap, Rivigo, Unacademy, CarDekho, Razorpay, Droom, Zerodha also hit the jackpot. Now, BYJU's appears to be in process to make several hundred of its employees rich as the company has expanded its ESOPs pool by 3.5X.
A typical way a tech hub develops is this: Founders and early employees get rich in an exit and start investing in their friends and co-workers.
India is seeing an inflection point. It has about 25 unicorns and will potentially have another 25 in the next 3–4 years, so 50 by 2023.
What a time to start a startup in India and what a time to invest in startups in India.
Festive bonanza for BYJU's employees: Value of ESOP pool crosses Rs 1,300 cr
2. Startup funding jumps 25% amid 'bubble' fear — ETtech
Capital flows to startups continued at an increased pace in the latest quarter as global investors carried on signing huge cheques for entrepreneurs building the next biggie in areas from financial technology to software services, bucking the slowing growth in the economy.
But the rush of capital, which has led to the valuation of some startups multiplying overnight without any significant change in business metrics, is also causing concern among investors of a 'bubble'.
Total money poured into startups increased by 25% to $10.9 billion in the first nine months of 2019 as compared to the same period in the previous year, even as the total number of deals fell by 26% to 937 transactions, according to the latest data from Tracxn. The data increasingly indicates that the boom in financing is being led by mid-and late-stage rounds of over $50 million, and is now trickling down to even early-stage transactions
Avnish Baja puts it in the best way possible — "Right now, all 3 Vs of a 'bubble' are at play in the technology investing world — volume (number of investments), value (valuations vs fundamentals) and velocity (time to an investment decision and/or markups between rounds),"
3. Southeast Asia's internet economy to hit $300 billion by 2025: Report
Southeast Asia's internet economy is forecast to reach $300 billion by 2025 as millions of people in the region take up online shopping and embrace ride-share food delivery, an industry report said on Thursday
To hit that target, the online industry is expected to grow by 200% over the next five years from an estimated $100 billion this year, according to the report by Google, Singapore state investor Temasek Holdings and global business consultants Bain & Company.
"This pace of growth has exceeded all expectations," the 64-page report said. "Internet access is now affordable for large segments of the population and consumer trust in digital services has improved significantly."
More than $37 billion has been invested in Southeast Asian online companies over the past four years with the majority going into e-commerce firms like fashion retailer Zilingo and ride-hailing Unicorns such Grab and Gojek, the report found.
Given the massive opportunity in SEA and the rising competition in the Indian tech ecosystem — Indian founder are starting companies in SEA for SEA
Southeast Asia's internet economy to hit $300 billion by 2025: Report 

4. Worth reading
A week in review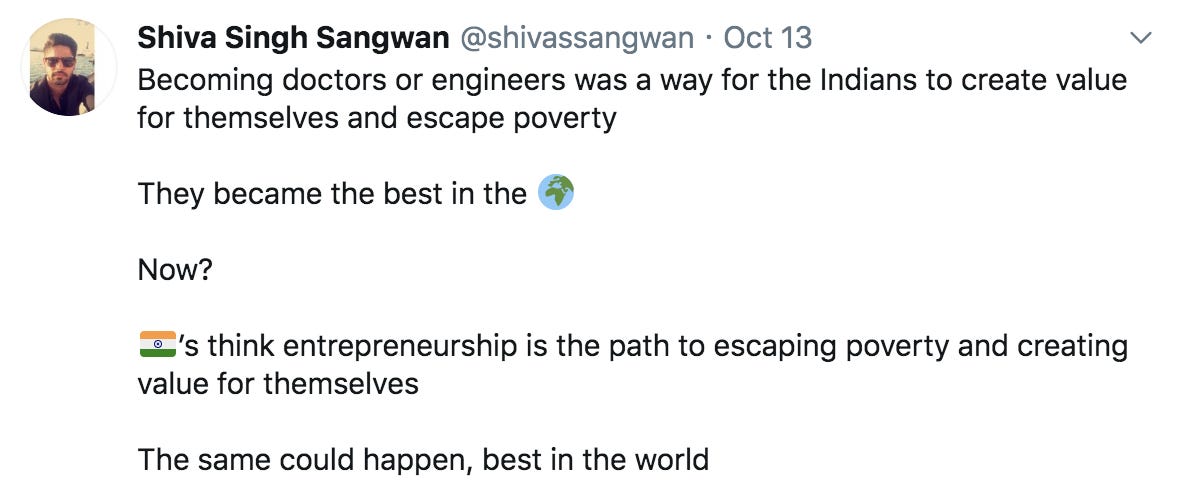 Thank you for reading. Please share any feedback, questions or comments
with me on Twitter
 :)