1947 Tech 🇮🇳: 92
Once a week newsletter: Insights on Tech, markets, startups, venture capital, and foreign investments in India
1. Boom: Paytm gets $1 billion top-up led by T Rowe Price in latest financing round
Back in 2012, Tiger Global had invested $20M into Flipkart at a $200M valuation and that was witnessed as the largest raise by a tech startup in India up until that point.
We must say, India has come a long way.
Digital payments company Paytm said it has raised $1 billion in a financing round led by US asset manager T Rowe Price with existing investors Ant Financial and SoftBank Vision Fund also participating.
PayTm is valued at $16B now, which makes PayTm the most valued startup in India.
Paytm gets $1 billion topup led by T Rowe Price in latest financing round 
2. Chinese VCs bring what money can't buy for startups
Venture capital money has become a commodity in India now.
Why?
India is viewed as the last greatest opportunity globally. Thus, funds from all over the world are pouring money into Indian startups.
Competition is heating up.
Therefore, India has also become one of the most competitive venture capital markets in the world.
Founders are partnering with those funds that add real value.
Chinese funds are doing it right.
Chinese funds are connecting portfolio firms to other investors from the world's second-largest economy, making introductions across the board — from manufacturers, design firms, supply chain experts — and exploring go-to-market strategies across geographies.
3. Nazara eyes 20 startup investments in the next year
In most cases, Alibaba, Tencent, and Baidu are viewed as partners in China, not as competitors.
Over the past decade, these three companies have helped build the tech ecosystem in China by providing capital + resources to nascent startups in China.
We are witnessing a similar trend in India, which is inevitable and natural.
Nazara has acquired 13 startups across sports media and gaming over the last 18 months.
It is planning to invest $20 million in gaming companies in the next year.
Large tech companies like PayTm, Flipkart and so forth have corpus ready to be deployed into nascent startups.
All India needs a handful of Indian companies that are valued over $100 billion and it will reach the scale of the US and China.
Reliance must wake up.
Worth reading:
A week in review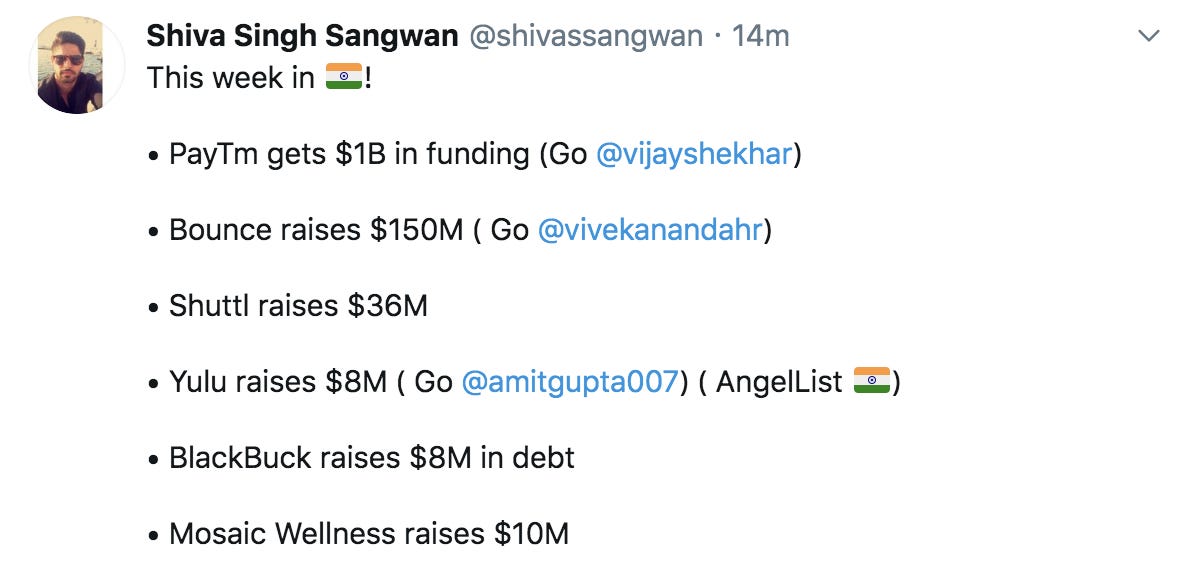 Thank you for reading. Please share any feedback, questions or comments
with me on Twitter
 :)