Discover more from 1947 Tech Newsletter 🇮🇳
All you need to know about the Indian technology ecosystem in 5 minutes. Subscribed by over 80% of unicorn founders in India and the world's best VCs A fresh new issue every week!
Over 1,000 subscribers
1947 Tech 🇮🇳: 93
Once a week newsletter: Insights on Tech, markets, startups, venture capital, and foreign investments in India
1. Indian start-ups raised a record $14.5 bn in 1185 funding rounds this year
25X growth!
What a decade for the Indian tech startups. 
As the decade is coming to an end, it has seen an impressive 25x growth from a tiny $550M in 2010 to $14.5B in 2019 in terms of the total funding raised by the start-ups.
This year start-ups raised $14.5 billion in 1185 funding rounds out of which 459 were Series A and late-stage investments, according to the 'India Tech Annual Factsheet — 2019' compiled by data analytics firm Tracxn.
There are 24 'unicorns' or startups valued at more than $1 billion (each) and 155 'soonicorns' or firms which hold the potential to become unicorns in the near future in the country. Out of these 9 'unicorns' and 60 'soonicorns' were formed this year, according to Tracxn.
Indian start-ups raised a record $14.5 bn in 1185 funding rounds this year
2. Key highlights, early-stage investing in India. Source: Innoven Capital
Early stage (Angel/Pre series A) investments in 2019 more than doubled v/s 2018, driven by a 22% increase in number of deals and a 70% increase in average deal size (INR 75MM v/s INR 44MM in 2018)

Average valuation in early stage deals up 15% v/s 2018 …at INR 179 MM ($2.6 MM)

17% of funded startups were in pre revenue stage in 2019 (v/s 12% in 2018). This is largely driven by investors backing concept stage ventures by serial entrepreneurs & experienced founders

Investors continue to bet on experienced founders … among funded startups, 82% of founders had experience more than 5 years. The majority of funded start ups had 2 cofounders (89%)

Almost 50% of early stage investors felt that the valuations in 2019 were on the higher side but majority (56%) foresee a slowdown/correction in the valuations in 2020
3. PE/VC investments hit record $37bn this year 
As many as 74 high-value deals worth $100 million or more were clocked in the year, accounting for 74% of the total value in the period.
Of these, there were five $1 billion+ investments, and 40 were larger than $200 million each, Venture Intelligence data shows. The year gave rise to nine new unicorns in the India startup world — Delhivery, Dream11, Bigbasket, Rivigo, Druva Software, Icertis, Citius Tech, Ola Electric and Lenskart.
Worth reading:
A week in review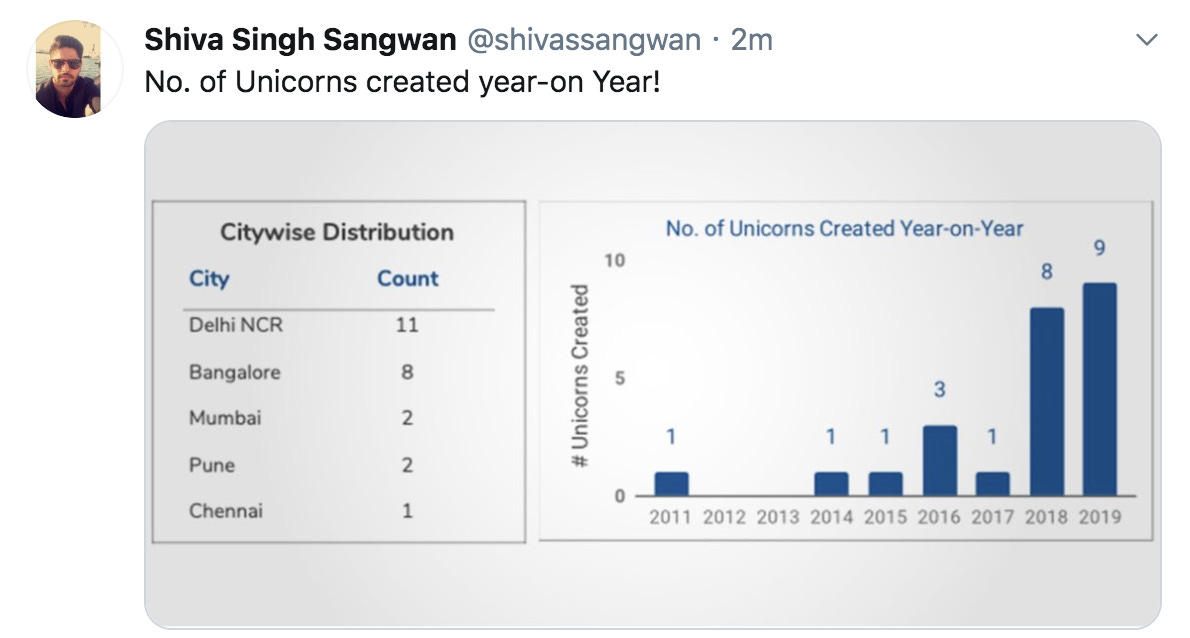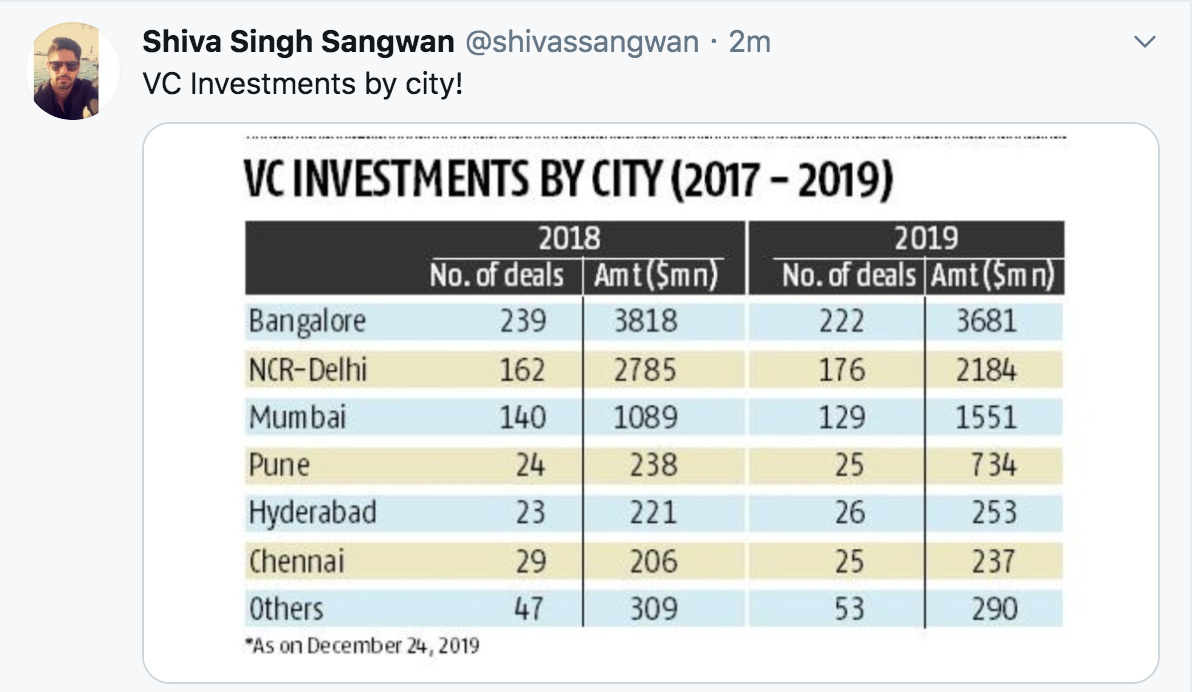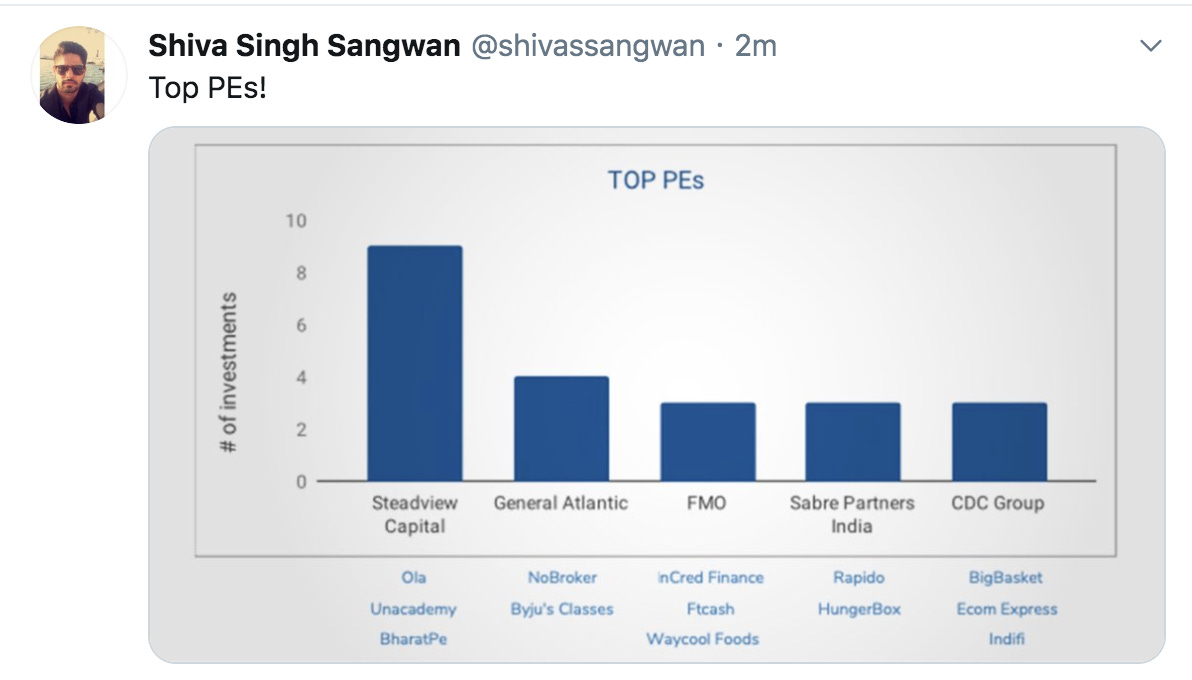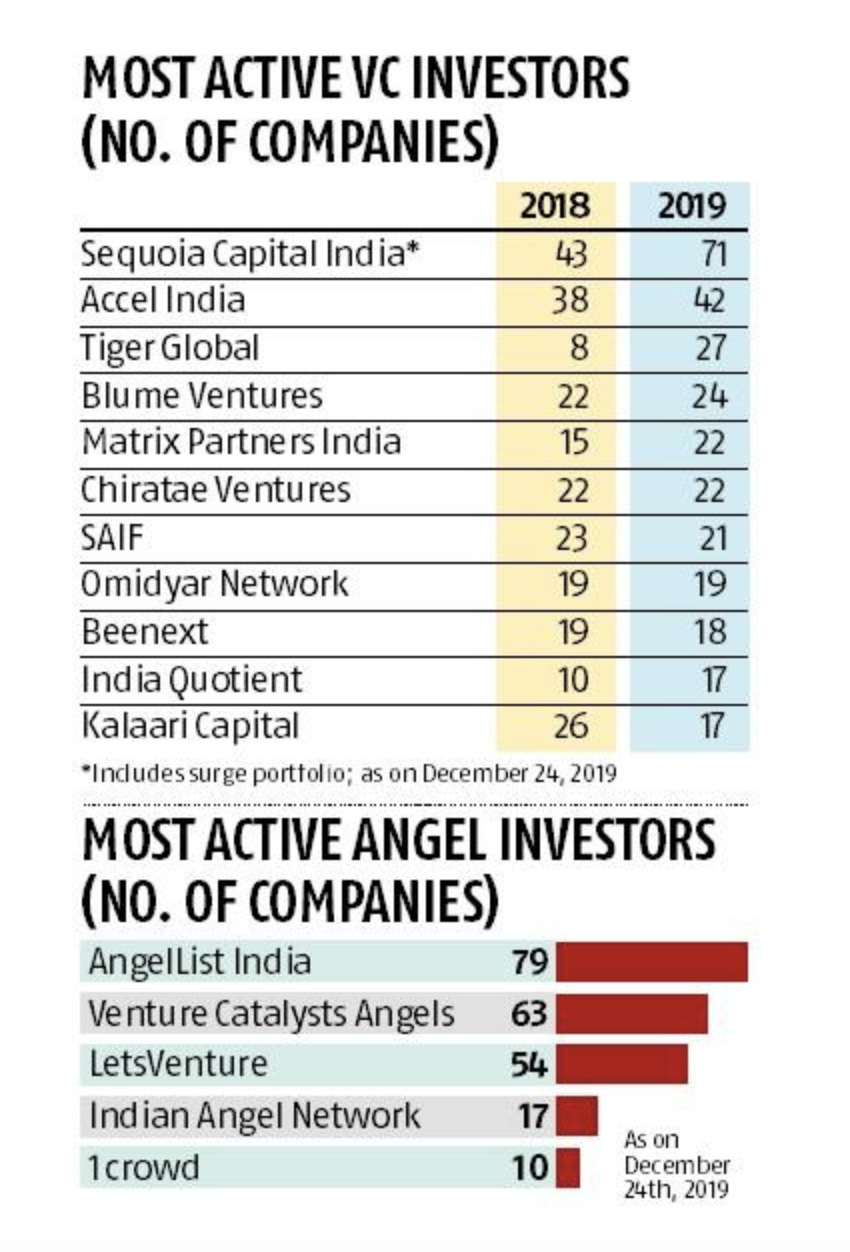 Thank you for reading. Please share any feedback, questions or comments
with me on Twitter
 :)