1947 Tech 🇮🇳: 97
Once a week newsletter: Insights on Tech, markets, startups, venture capital, and foreign investments in India
1. Sequoia's startup bet intact, to raise record $1.3 billion for new India fund
The year 2020: A new decade has started! 
Change is the only constant in the world. Very true.
Sequoia is raising the biggest fund ever for India. 
Why?
Because India is viewed as the world's last greatest opportunity.
Sequoia will be holding its global LPs meeting in India. 
Till now, these meetings have been held in larger markets like the US and China.
Sequoia's startup bet intact, to raise record $1.3 billion for new India fund — Times of India
2. 'India offers exciting blueprint for other emerging markets' — Times of India
India now provides what we believe is, from a policy design and systems perspective, a very exciting blueprint for other emerging markets.
India made investments in public digital infrastructure and created a regulatory and legislative framework that allows for open architecture-type system with data protection. And the cost is much lower than that of other systems around the world. We think the Indian approach and the innovation it enables could have a real demonstration effect for other emerging markets.
In the last few years, India has become a product factory for top technology firms such as Google, Facebook and Uber which have used its unique challenges to create innovative products before rolling them out globally.
Google's payment offering Tez or Google Pay, offline Google Maps or YouTube, the pay by cash feature in Uber or the ride-hailing firm's stripped-down version of its app — Uber Lite — which works even in patchy bandwidth areas, are some recent examples of such innovations.
'India offers exciting blueprint for other emerging markets' — Times of India
3. New $3.8 billion fund to fuel Tiger Global's deals
Tiger loves India, India loves Tiger!
Tiger Global isn't holding back. It is going all in.
Tiger Global Management, one of the earliest big backers of India's internet story, will continue to actively back startups in India as the firm has closed a mega $3.8 billion global private investment vehicle.
India will be among the three key focus geographies for the new vehicle — Tiger Global Private Investment Partners XII — along with China and the US as the firm emerged as one of the most aggressive backers of startups in the country in 2019 with 23 deals.
New $3.8 billion fund to fuel Tiger Global's deals - Times of India
Worth reading:
A week in review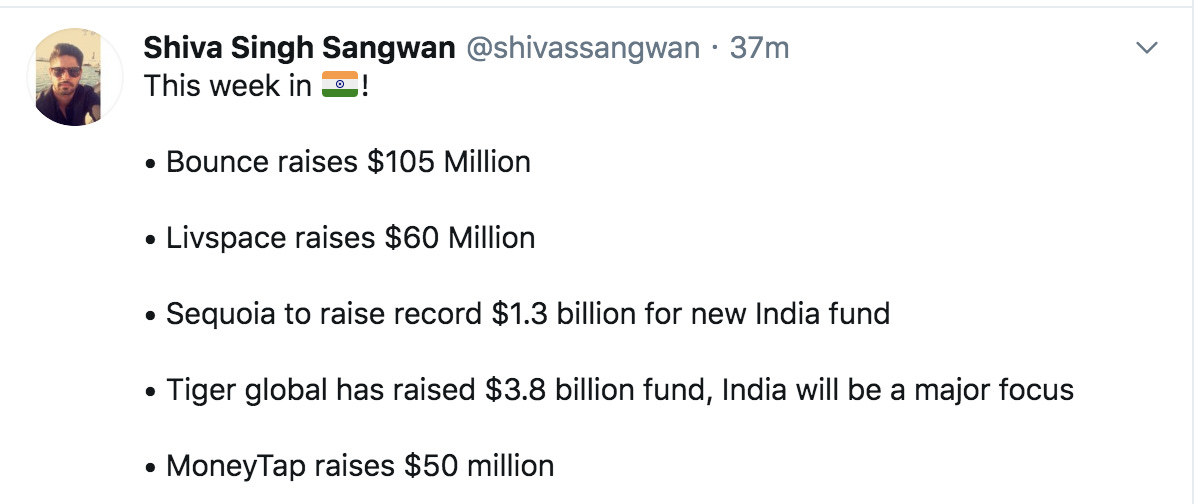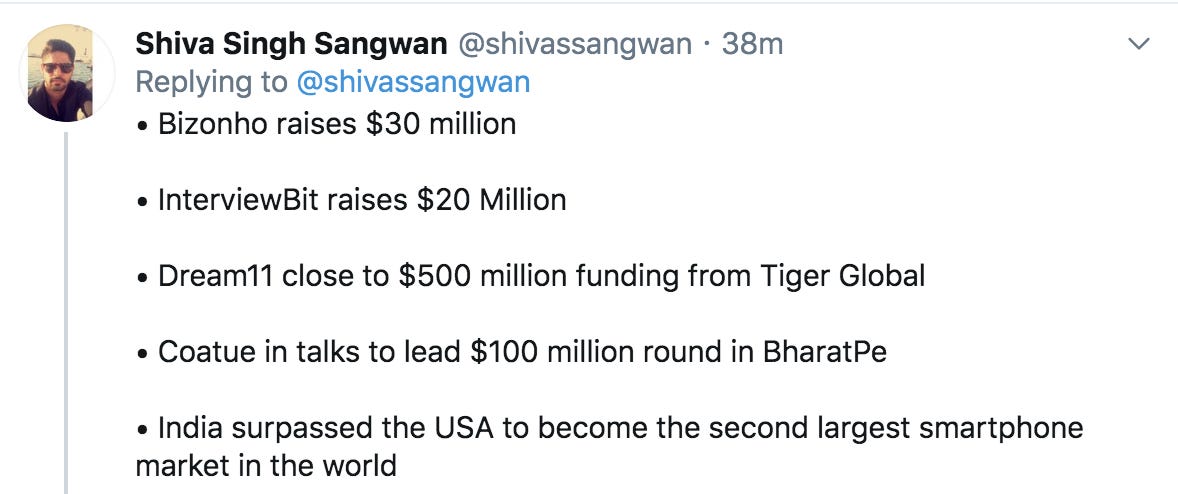 Thank you for reading. Please share any feedback, questions or comments
with me on Twitter
 :)