Discover more from 1947 Tech Newsletter 🇮🇳
All you need to know about the Indian technology ecosystem in 5 minutes. Subscribed by over 80% of unicorn founders in India and the world's best VCs A fresh new issue every week!
Over 1,000 subscribers
1947 Tech 🇮🇳: 99
Once a week newsletter: Insights on Tech, markets, startups, venture capital, and foreign investments in India
1. PayU India co-founder Shailaz Nag's startup Dot raises $8M in seed round
Repeat founders is a big ongoing trend in India.
Ashish Kashyap (IndWealth), Kunal Shah (Cred), Jiten Gupta (Jupiter) are all repeat founders, to name a few.
And the names are only going m-o-m, great traction. A metric that could be used to measure the state of a tech ecosystem.
To join the tribe, PayU India co-founder Shailaz Nag's new startup, Dot, on Thursday announced it has raised an initial seed funding of around $8 million, led by PayU and Fosun RZ Capital.
More are joining the tribe soon:
Top talent leaving Flipkart in search of greener pastures
[Funding alert] PayU India co-founder Shailaz Nag's startup Dot raises $8M in seed round
2.
FirstCry turns unicorn with $300 Mn investment from SoftBank
Here comes the 27th!
At least 50 more unicorns in the next 5 years?
SoftBank Vision Fund has invested around $300 million in FirstCry, an omnichannel retailer dedicated to baby and mother care products as part payment for their fresh stake in the company.
It's worth noting that FirstCry also used to own e-commerce focused logistics company XpressBees. However, it spun off the logistics division as a separate entity and later raised funds from Alibaba. In total it has raised $167.7M
FirstCry turns unicorn with $300 Mn investment from SoftBank
3.
Shunwei Capital, Xiaomi bet big on Indian startups
Shunwie and Xiaomi love India. 
India loves Xiaomi smartphones and Shunwei's capital + china learnings.
Recently Xiaomi has also got active as an investor in Indian startups.
Two well-entrenched Chinese investors — Xiaomi and Shunwei Capital, which also share deep linkages — have struck their first deals in the new calendar year in the Indian startup ecosystem, as they look to add to their portfolios in Asia's third-largest economy.
Shunwei Capital, which manages assets of about $3 billion and founded by Xiaomi founders Lei Jun and Koh Tuck Lye, has co-led a $5.5 million (about Rs 40 crore) investment round in regional language podcast app Kuku FM.
The deal will be the 18th funding round that Shunwei Capital has participated in over the course of the last 12 months, according to data collated by industry tracker Tracxn.
In the last two years, the Beijing-based firm — which is investing out of its $1.2 billion sixth fund — has backed the likes of online food delivery platform Zomato, regional language social media company ShareChat, mobile bike taxi service Rapido and social commerce startup Meesho.
Worth reading:
A week in review: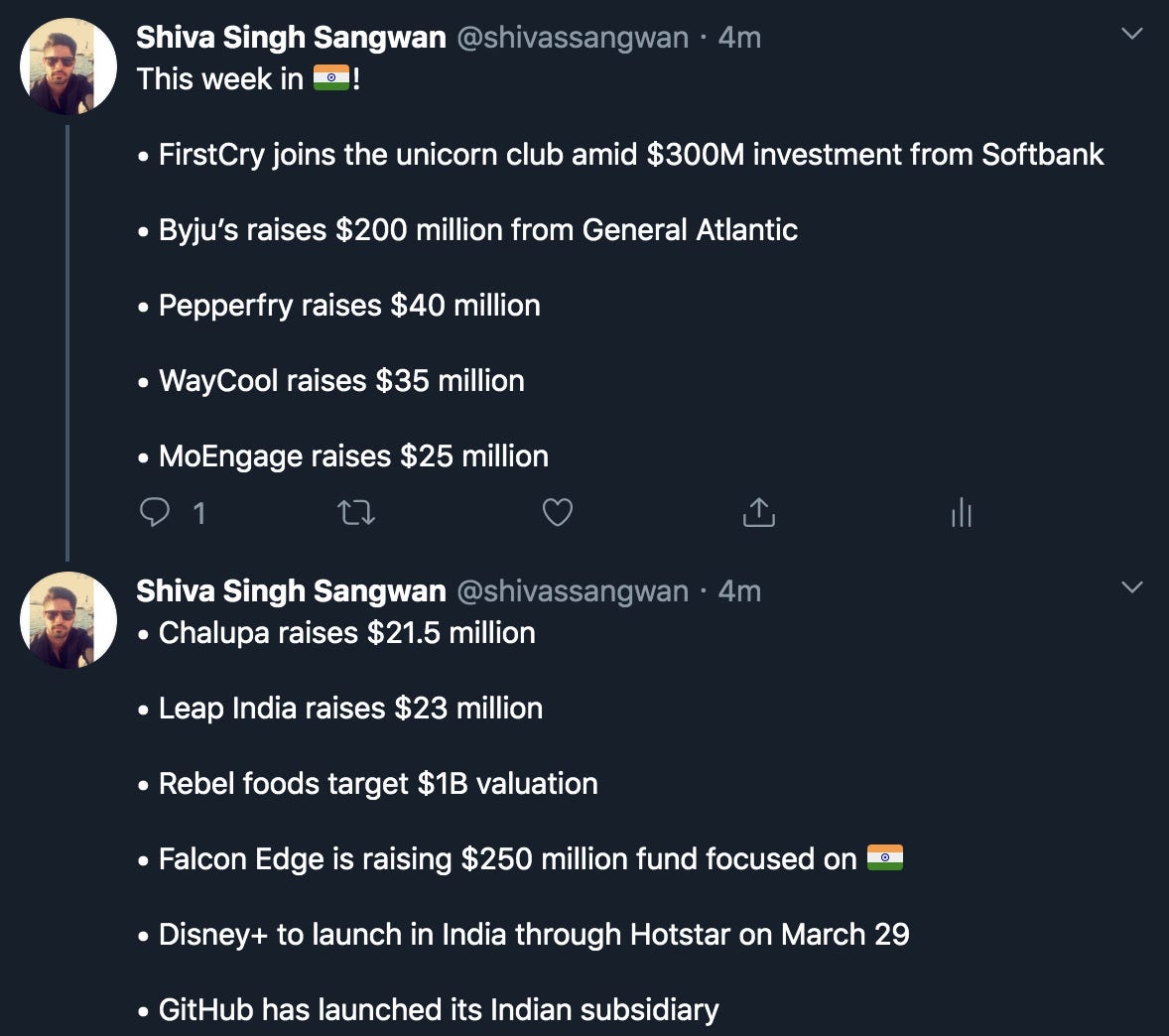 Thank you for reading. Please share any feedback, questions or comments
with me on Twitter
 :)