Discover more from 1947 Tech Newsletter 🇮🇳
All you need to know about the Indian technology ecosystem in 5 minutes. Subscribed by over 80% of unicorn founders in India and the world's best VCs A fresh new issue every week!
Over 1,000 subscribers
1947 Tech : Week 40
A few good articles and tweets that I came across this week..
1. Big funding round: 
Delhivery To Gain Unicorn Status With SoftBank's $245 Mn Round
Amid growing competition and investor interest in India's logistics sector, Japanese conglomerate SoftBank is looking to invest $200 Mn-$250 Mn in ecommerce logistics startup Delhivery, which was earlier looking to launch its IPO (initial public offering).
The funding will be led via the SoftBank Vision Fund at a post-money valuation of around $1.2 Bn, marking its entry into the much-coveted Unicorn club.
The brainchild of Sahil Barua, Mohit Tandon, and Suraj Saharan, Delhivery was launched in 2011 with the aim of disrupting the logistics supply chain market in India.
The startup currently claims to service about 600 cities and 8,500 pin codes in India. It has 12 fulfillment centers for B2C and B2B services and works with e-commerce giants such as Flipkart and Paytm.
2. IKEA loves India: 
IKEA plans to invest Rs. 3,000 crore ($410 million) for three new centers
Swedish furniture and home accessories company IKEA plans to invest nearly $410 million in the next three years to open three fulfillment centers (packing warehouses) in Mumbai, Bengaluru, and Delhi.
IKEA is set to open its second store in Mumbai later this year, and would hold a ground-breaking ceremony on October 11 in Bengaluru.
By 2025, there would be over 25 stores across cities such as Ahmedabad, Surat, Pune, Chennai and Kolkata with both online and offline approaches.
3. Wisdom Kishore: 
Kishore Biyani's advice to global retailers eyeing India: Get your hands dirty
Veteran retailer Kishore Biyani has some important advice for international retailers looking to enter the Indian market — get your hands dirty.
According to Biyani, India is the most heterogeneous market and modern retail functions a little differently here. "We deal with communities and being an age-old civilization, we have genetic codes that don't change. We (may) experiment but we come back to our roots again. So in that sense, the consumers are different, the environment is different and the way we shop also is quite different. And I think we're all learning in a way."
4. The three V's: Voice, video and vernacular: India's Internet landscape is changing to tap new users
"There is a paradigm shift in India's internet," says Rajan Anandan, vice-president-South East Asia and India, Google. "For a very long time, India's internet story was defined by metro, male and millennials. But this has changed completely in the last few years." Many of these metrics are rapidly changing.
There has been a four-fold increase in rural internet users. India's data consumption, now at 8GB every month per subscriber, compares with developed markets. And the transacting audience is as large as 170 million
As the hunt for India's next wave of users intensifies, there's a consensus that their use of the internet will hinge on three areas: voice, video and vernacular applications.
Few Tweets:
It doesn't matter what country or what continent the investors are from. The common thread here is that they all want to invest in India. A country that is too good to be ignored.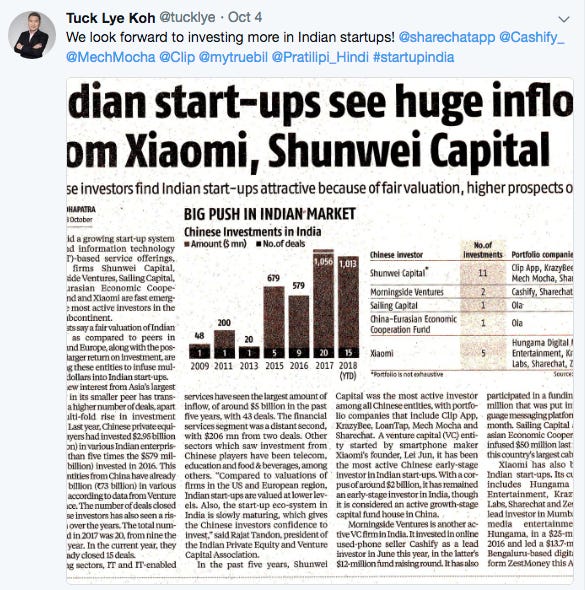 Doesn't matter what sector they are from. The common thread here is that they all want to expand to India.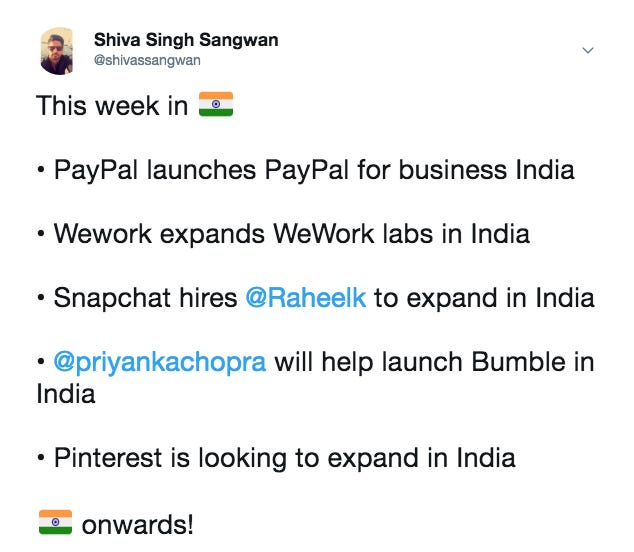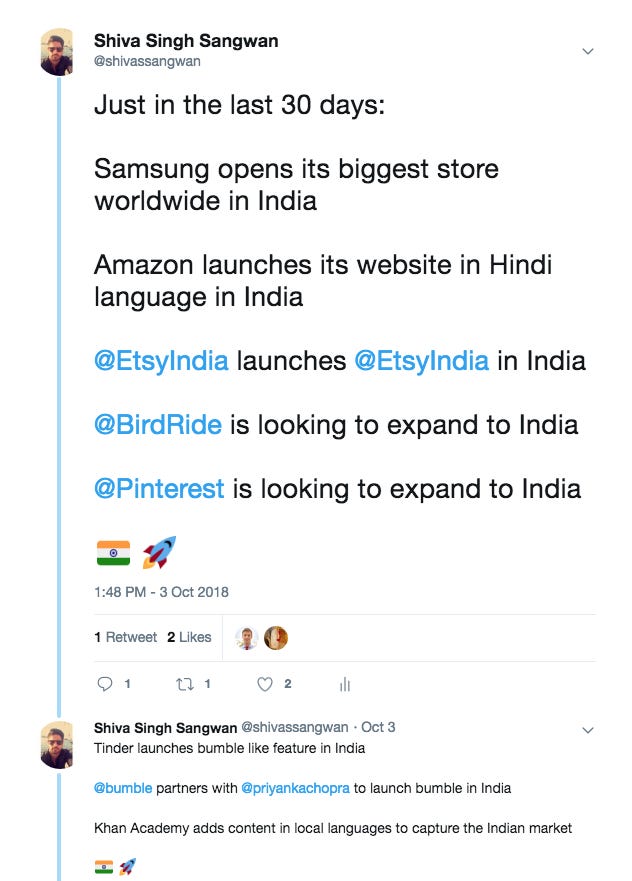 Thank you for reading. Please share any feedback, questions or comments 

with me on Twitter