1947 Tech : Week 41
A few good articles and tweets that I came across this week..
1. Big Funding Round: Ant Financial puts another $210 million in Zomato
Alibaba's payment affiliate Ant Financial has pumped in another $210 million in restaurant discovery and food-delivery platform Zomato, as the company ramps of spending for its market leadership battle against rival Swiggy.
The investment will be for a little over 10% stake, according to estimates, pegging Zomato's valuation at around $2 billion.
Last week, Zomato had claimed to have hit the 21 million monthly order run rate in India in September implying that the firm saw its highest daily order volume during the month touch 700,000 orders each day of the week. With this, Zomato claimed it is the market leader in the food delivery space in India.
2. Go-Global:
India's $5bn no-frills hotel start-up Oyo Rooms targets China
Following a wave of funding into Indian start-ups in recent years, technology-driven lodging group Oyo Rooms has put foreign growth at the heart of its plans, rolling out an unusual model based on sprucing up existing low-end hotels and powering them with technology.
 Already comfortably India's biggest hotel brand by room numbers, Oyo Rooms has become one of China's 10 largest within a year of launching there. It claims that within four years it can be the biggest hotel brand in the world
 In an earnings call in August, SoftBank founder Masayoshi Son praised Oyo for growing its room numbers at 10 times the pace of global leader Marriott, using what he called a "a next-generation type of hotel management".
3. Booming economy: Vision of a USD 5 Trillion Indian Economy
The Working Group tasked to develop a roadmap towards achieving a 5 trillion dollar economy by 2025 has prepared its report and it is being circulated to the stakeholders for further suggestions.
One trillion dollar from agriculture and allied activities

One trillion from manufacturing and three trillion from services
India is one of the fastest growing major economies and is currently ranked as the world's sixth largest economy. Projections of growth, over the medium term, remain encouraging and optimistic for India. The Government has several ongoing initiatives across sectors focused on growth.
Few Tweets:
Indian startups will win the India market as they enter the third phase of innovation, a phase in which founders will build products and services that are not only innovative for India but also innovative for the world. Homegrown companies— Hotstar and Oyo rooms are great examples.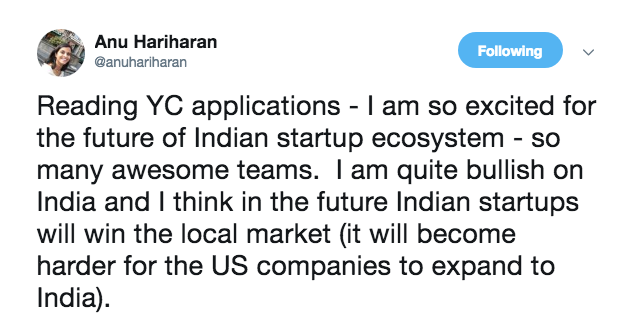 50% of annual GMV for Flipkart, Amazon's rival, comes from 30 days of festive season.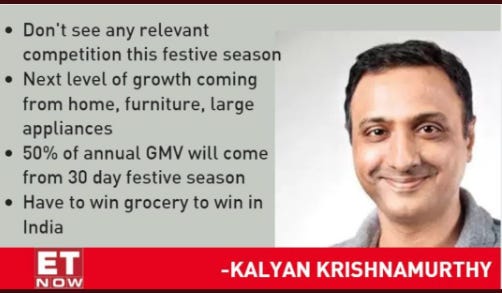 A week in review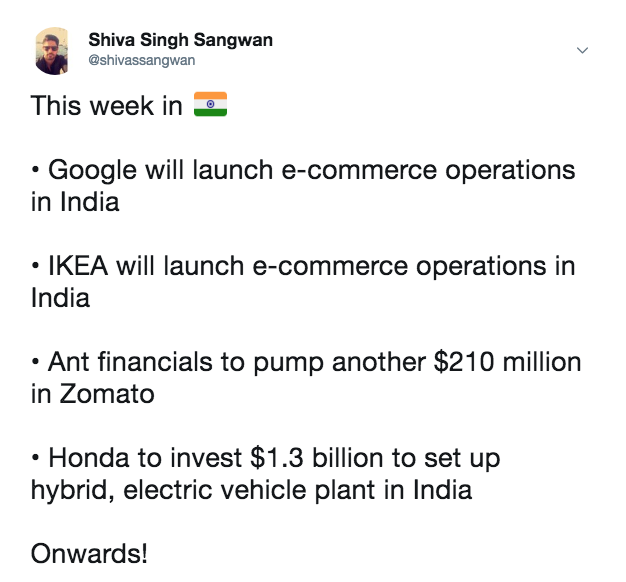 Thank you for reading. Please share any feedback, questions or comments
with me on Twitter