1947 Tech - Week 44 Newsletter
Once a week newsletter: Insights on Tech, markets, startups, venture capital, and foreign investments in India
1. More capital for Indian Startups:
Shunwei Capital raises $1.21Bn in latest global fund, to double down on India
Chinese early and growth stage venture capital fund Shunwei Capital has raised one of its largest funds yet at $1.21 billion, taking the total assets under management by the firm to over $3 billion across all its funds.
The size of its latest fund is particularly significant for India which has emerged as the second most important landscape for Shunwei Capital after its home ground China
"India is an important market for us outside China… and we will continue to deploy capital proactively. We like business models that are highly scalable and light, ideally with low touch on offline infrastructure," Tuck Lye Koh, Co-founder and CEO of Shunwei Capital
Shunwei Capital raises $1.21Bn in latest global fund, to double down on India - ETtech
2. India is going cashless economy: India to have 1 billion debit cards soon, from just 84m 10 years ago
India is set to touch 1 billion in debit cards. It was a mere 84 million a decade back. Even four years ago, it was less than half of what it is today. This phenomenal growth is because of governments' consistent push towards rural financial inclusion, with schemes such as MNREGA, opening of Jan Dhan accounts and direct benefit transfers (DBT).
Increase in use of debit card has been transformative for India. Where earlier a bank's business correspondent (BCs) would go in person to a village to disburse the Rs 2,000 monthly pension for senior citizens, widows and the disabled today many beneficiaries of state and Central government schemes are seeing direct account transfer.
India to have 1 billion debit cards soon, from just 84m 10 years ago - Times of India

3. Indian market: What does it take for a global brand to win India over?
India is one of the most diverse countries in the world with an amalgamation of various cultures, thoughts, and beliefs. With 20+ official languages, hundreds of dialects, dressing styles, food habits and beliefs, the country is a melting pot of different influences.
Here are five tips that global brands entering the diversified Indian market should keep in mind.
Be a part of India's cultural zeitgeist

Identify the early adopters

Localise the playbook

Aim for government partnerships

Make for India
4.
Taking ease of doing business in India serious: India Improves Rank by 23 Positions in Ease of Doing Business
The World Bank released its latest Doing Business Report(DBR, 2019) today in New Delhi. India has recorded a jump of 23 positions against its rank of 100 in 2017 to be placed now at 77thrank among 190 countries assessed by the World Bank. 
India's leap of 23 ranks in the Ease of Doing Business ranking is significant considering that last year India had improved its rank by 30 places, a rare feat for any large and diverse country of the size of India.
Strong initiatives that India has taken in categories such as 'construction permit', 'starting a business' and 'trading across borders' helped boost the rankings.
India's ranking likely to be improved in World Bank 'Ease of Doing Business' index

A Week In Review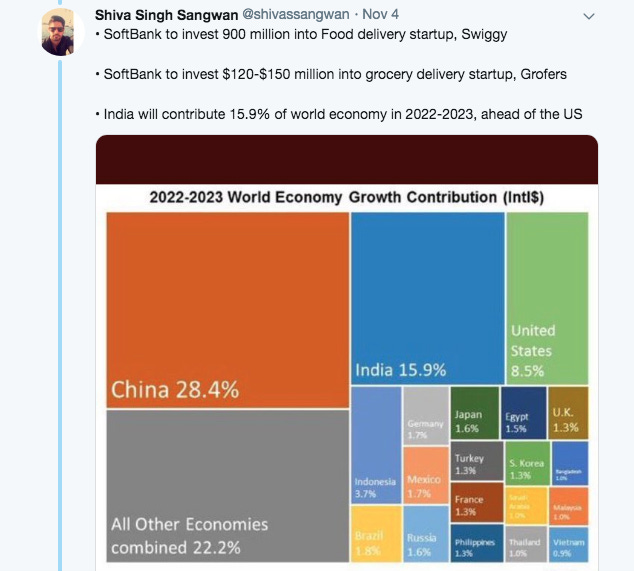 Thank you for reading. Please share any feedback, questions or comments
with me on Twitter
 :)